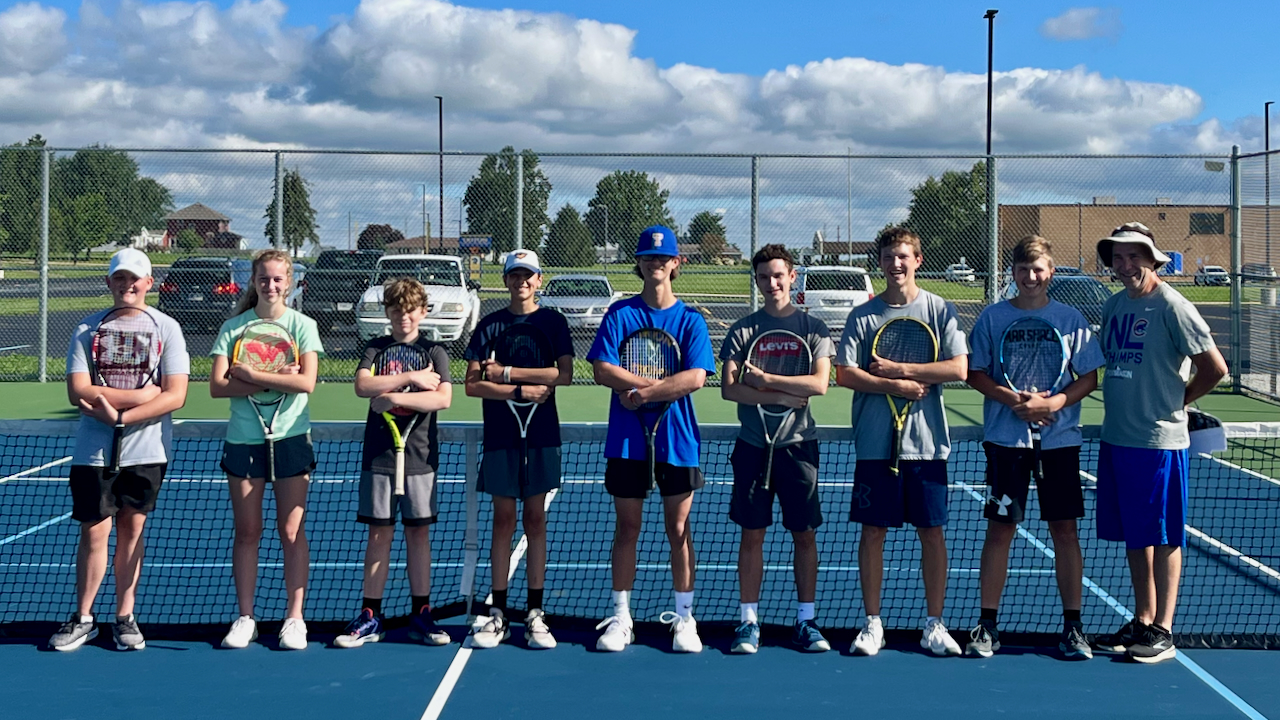 Oliver Ickes '27, Danica Kuntz '24 (Manager), Isaiah Vaca '25, Ethan Shively '24, Zak Greer '24, Damon Kuntz '24, Caden Large '25, Colton Large '27, Coach Gardner
BOURBON - Triton Tennis graduated one senior from the 2021 season, Connor Large at #1 singles. Having been a 4-year letter winner, Large's shoes will be a challenge to fill but the three returning letter winners, juniors Damon Kuntz and Zak Greer and sophomore Caden Large, are up for the challenge. Newcomers to the program, junior Ethan Shively and sophomore Isaiah Vaca, are also setting high goals for the new season.

"These boys have put in extra time this summer to improve their skill set," said head coach Brad Gardner. "All are multi-sport athletes who split time between academics and activities. We have been healthy and working very hard to avoid any injuries as the participation numbers are still down," Gardner continued.

Triton will definitely have some holes to fill with current numbers. Coach Gardner believes that either Caden Large or Damon Kuntz will step in at #1 singles and have to play really smart and continue to improve their skill set to have success in the conference and post-season.

"Caden competed at the #3 singles his freshman year and had his work cut out as he played a lot of upperclassmen but had a winning attitude and never backed down. He should be fun to watch and plays a different style than older brother Connor," said Gardner.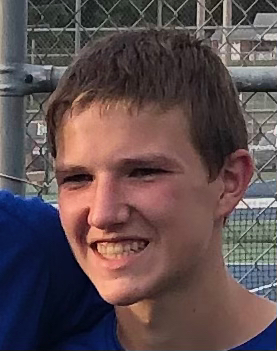 Caden Large - Sophomore

Damon has been impressive in early practices with his groundstrokes and serving consistency. Coach Gardner believes this could be his breakout year in the conference as he also had to step in and play #2 singles last year without any hesitation and definitely saw stiff competition that only made him work harder over the summer.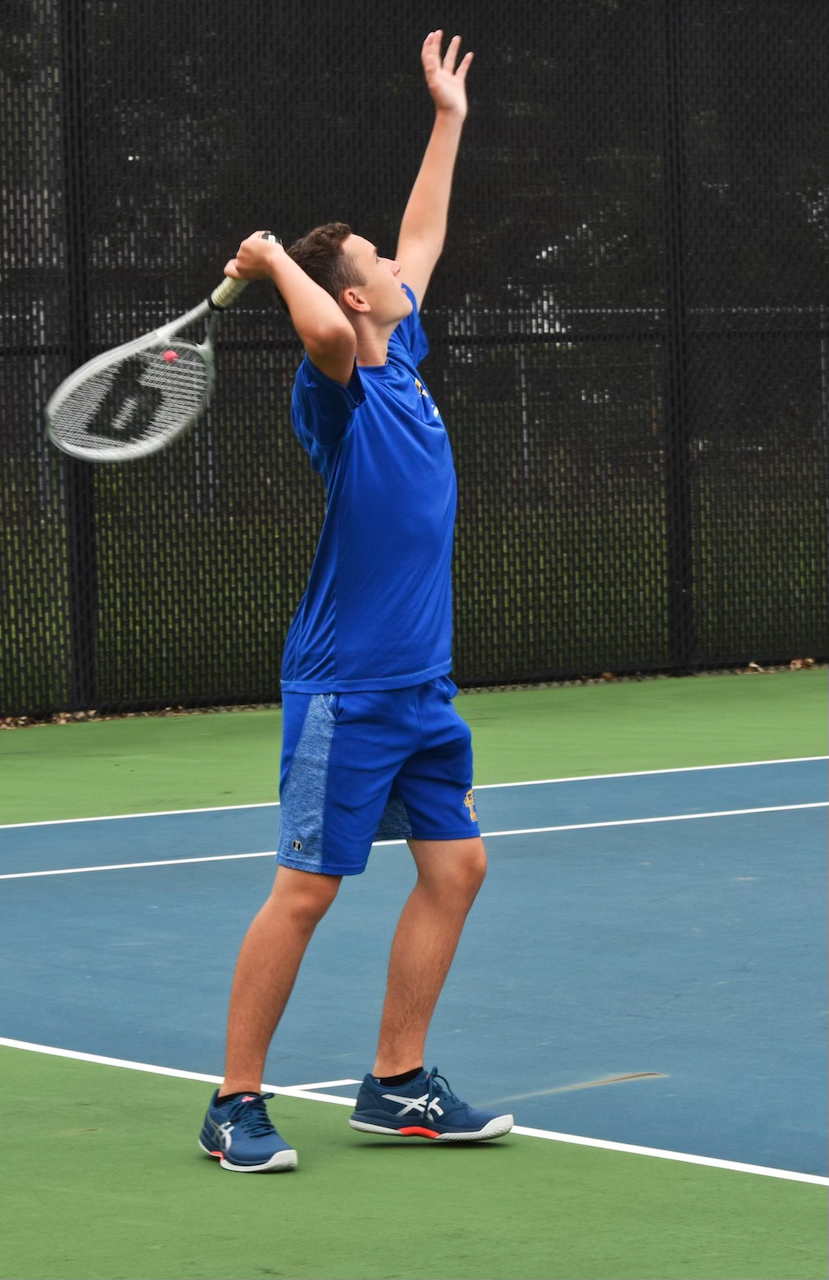 Damon Kuntz - Junior

The rest of the team is competing for the remaining spots. Zak Greer has been working on multiple aspects of his game and will see success in the conference in a #3 singles position and possible doubles. Coach Gardner sees Greer's carefree attitude and easy-go attitude as an asset that will help him prevail in the tough matches.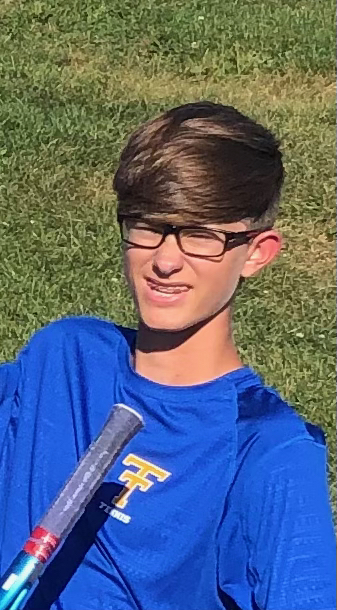 Zak Greer - Junior

Ethan Shively picked up a racquet this summer and seems to have a natural knack for tennis. Coach Gardner believes Shively's ball striking will improve quickly once match play begins.

Isaiah Vaca is the second player to pick up a racquet and has a zest for life and brings a lot of high energy and competitive edge to the young team. Coach has enjoyed his willingness to challenge and not give up easily, as it seems almost any ball is hittable with him on the other side of the net. Coach Gardner believes what Isaiah lacks in tennis experience will be made up with his hustle and grit.

Triton's schedule remains similar to all previous seasons, including conference play. Coach Gardner believes the HNAC conference will be a level playing field this fall season and on any given night an unexpected upset or narrowly won match will decide the outcome. The Triton community continues to provide encouragement and the boys look forward to the supportive turnout fans have provided in the past.
Tue, Aug 16 - 4:30 PM at John Glenn
Wed, Aug 17 - 5:30 PM at Knox ©
Thu, Aug 18 - 4:30 PM at Rochester
Mon, Aug 22 - 5:00 PM Logansport
Tue, Aug 23 - 5:30 PM North Judson ©
Wed, Aug 24 - 5:30 PM Knox ©
Tue, Aug 30 - 4:30 PM at LaVille ©
Wed, Aug 31 - 4:30 PM Plymouth
Mon, Aug 1 - 4:30 PM Whitko
Fri, Sep 2 - 4:45 PM at Bethany Christian
Tue, Sep 6 - 4:30 PM at Tippecanoe Valley
Thu, Sep 8 - 4:30 PM at Bremen
Tue, Sep 13 - 4:30 PM LaVille ©
Thu, Sep 15 - 5:30 PM at North Judson ©
Sat, Sep 17 - 10:00 AM at Portage Invitational
Tue, Sep 20 - 5:00 PM Manchester
Wed, Sep 21 - 5:00 PM HNAC at Knox
Thu, Sep 22 - 5:00 PM HNAC at Knox
Wed, Sep 28 - 5:00 PM Bremen Team Sectional
Thu, Sep 29 - 5:00 PM Bremen Team Sectional
Fri, Sep 30 - 5:00 PM Bremen Sectional Final