Today Triton High School honors the accomplishments and birthday of senior Alyxa Viers. Alyxa is the daughter of Jamey and Don Baker and Brent Viers. Alyxa plans to attend Ancilla College to pursue a Vet Tech degree.  As a student-athlete, Alyxa played
 volleyball, basketball, and softball for 4 years. She also participated in club volleyball for 2 years and played travel softball for a season. 
Alyxa plans to continue playing volleyball in college.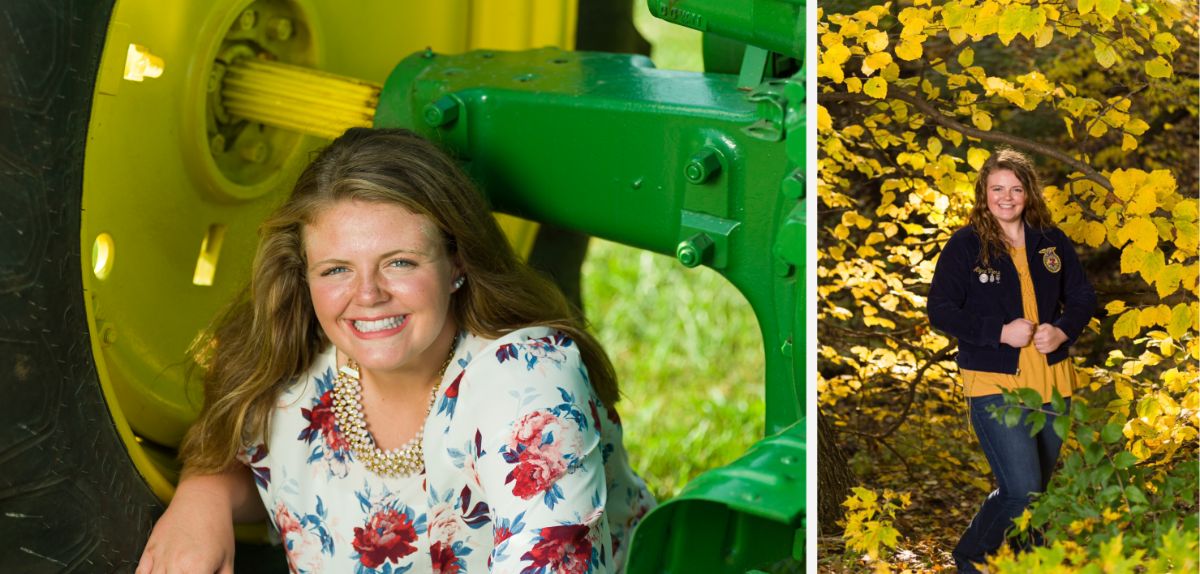 Q&A with Alyxa
Do you have any siblings?

Yes, I am the oldest of Abbey, Addyson, and Avery.





What awards did you earn during high school?

I won sectionals for volleyball in 2017 and 2019. I had the team's highest serving percentage for the 2018 season and recieved most improved for the 2019 season.





What clubs or activities do you participate in outside of sports?

FFA (5 years), 4-H (9 years), Dairy Judging (2 years), Spanish Club (4 years), Art Club (4 years), Science Club (3 years), Student Council (2 years), Helping Hands (3 years), Hoosier Girls State Delegate and 1st Runner Up for Distinguished Young Women of Triton





Who were your role models growing up? Who inspires you today?

My parents were my role models growing up and still are to this day. They taught me to be a hard worker and having a good attitude is so important. My parents have helped me figure out my career path by letting me experience and participate in so many different activities. I'm grateful that they taught me how to love one another and forgive no matter what.





What do you consider your biggest life accomplishment so far?

My biggest accomplishment would have to be receiving my Hoosier Degree. This degree is the highest degree you can receive within your chapter. It was a long application process that took many weeks and walking across the stage at State Convention was worth everything. The application had to match with my SAE. The SAE is a Supervised Agricultural Experience which starts your freshman year and you continue to fill out so it was very refreshing for it to pay off.





What impressions do you hope you've made as a scholar, athlete, and/or member of the community?

 The impression I hope to have made as a scholar is that I didn't give up when I've failed. Math was not a strong suit of mine but I kept asking questions and passed my classes. As an athlete, I pushed myself to be the best leader I could be especially when it is a ruff game happening I always tried to keep my team in good spirits. As a member, I try to attend community events to show my support. I enjoy attending Food Truck Friday because it supports the small town vendors.





Do you have any special talents?

I'm double jointed.





What's something interesting that most people don't know about you?

I was born in Michigan.





If you won an all-expenses-paid trip to anywhere in the world, where would you go?

I would go to Bora Bora because I love tropical weather, marine life, and would love to stay in one of the huts on the water.





If you had 2 hours every week to do anything you wanted, what would it be and why?

I would hang out with my family, read a book, bake something and probably take a nap.





Is there anyone you would like to thank or give a shoutout to?

My whole family




Rapid Fire
▶︎

Sport to play:

volleyball




▶︎

Sport to watch:

beach volleyball




▶︎

Food:

anything with avocado on it




▶︎

Time of day:

morning




▶︎

Movie:

The Help




▶︎

TV or online show:

The Golden Girls




▶︎

Genre of music:

country




▶︎

Subject in school:

Science




▶︎

Dream Job:

anything to do with agriculture