Today Triton High School honors the accomplishments of senior Gretta Stotler. Gretta is the daughter of Christina Stotler of Bourbon.  Another guardian she appreciates is Kasey Schneider.  Gretta plans to attend Ball State University this fall.  She has participated in concert band and marching band all four years of high school, theatre her sophomore, junior, and senior years, and choir as a junior and senior.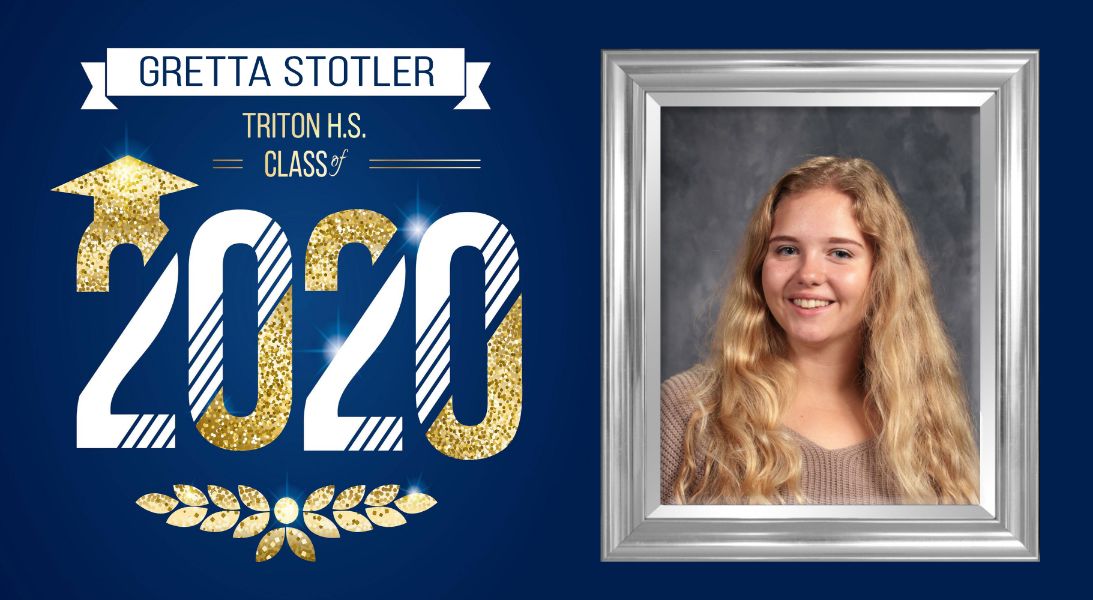 Q&A with Gretta
Do you have any siblings?
Yes, Austin is my older brother and Sydney is my younger sister.
Who were your role models growing up? Who inspires you today?
Growing up my role models consisted of my mom and Selena Gomez. Today my mom and Mr. Seel inspire me as well as some others.
What do you consider your biggest life accomplishment so far?
One of my personal biggest life accomplishments would have to be changing my mindset. I set this goal in the middle of freshman year. I wanted to change my mindset because I was at my lowest and had enough of where I was and where I was heading in life. I achieved this through a serious of years by trying to look at the positives even in bad situations and I can say without a doubt that I'm a completely different person then I was.
Do you have any special talents?
I play a few instruments, love acting, and can sing a little.
What's something interesting that most people don't know about you?
I enjoy painting my face and writing lyrical music.
If you won an all-expenses-paid trip to anywhere in the world, where would you go?
I would definitely go to Austria because it looks stunning there.
Is there anyone you would like to thank or give a shoutout to?
I would like to thank Mr. Seel. Since he has become the music director at Triton he has been a huge father figure to me and has pushed me to improve not only on my instrument but also as a person. I would also like to shoutout Mr. Young and Mr. Whittaker for being extremely good teachers.
Rapid Fire
▶︎
Sport to play:
tennis
▶︎
Game to play:
Suikoden IV for PS2
▶︎
Sport to watch:
soccer or ice hockey
▶︎
Game to watch:
anything spooky 
▶︎
Food:
raspberries
▶︎
Time of day:
evening sky
▶︎
Movie:
Goodfellas
▶︎
TV or online show:
On My Block or Merlin
▶︎
Genre of music:
any
▶︎
Subject in school:
History, Criminal Justice, English, and Music
▶︎
Dream Job:
working with film