Today Triton High School honors the accomplishments of senior Jacob Verdugo. Jacob is the son of Joe and Kathryn Gorr of Bourbon. Jacob plans to attend trade school to become an electrician. He has a long term goal of opening his own 5-star restaurant in a metropolitan area. As a student-athlete, Jacob played football in his freshman, sophomore, and junior years.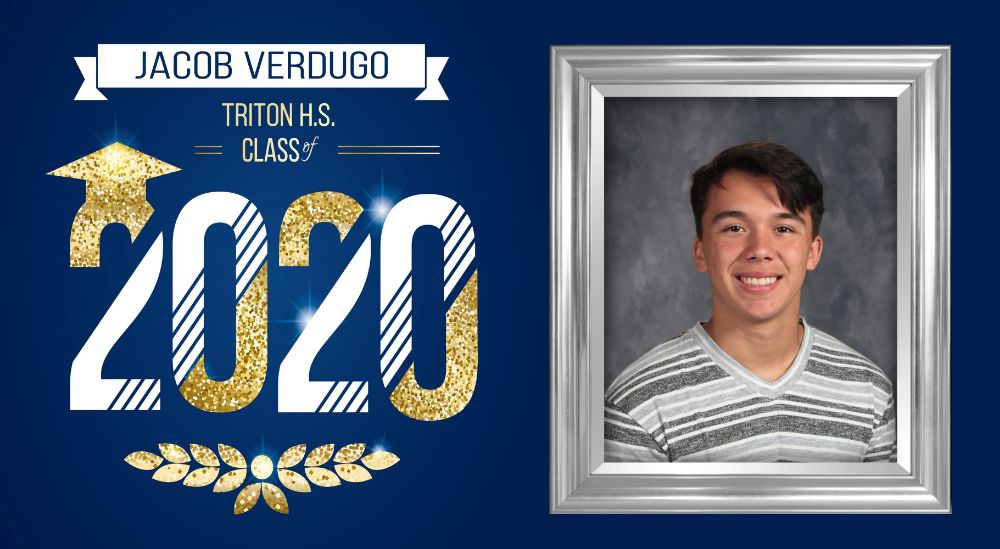 Q&A with Jacob
Do you have any siblings?
Yes, Abigail Gorr and Gabriela Gorr.
What clubs or activities do you participate in outside of sports?
Art Club
Who were your role models growing up? Who inspires you today?
My Step-dad has been my inspiration and I'm so thankful to have such a strong and positive influence in my life. I wouldn't be where I am today without him.
What do you consider your biggest life accomplishment so far?
Surviving this far has been great!
What impressions do you hope you've made as a scholar, athlete, and/or member of the community?
I hope that one day people will look back and acknowledge that I was a good person who cared for others, nothing more, nothing less.


Do you have any special talents?
People say I can draw and sing, but I think I'm pretty good with puzzles.


What's something interesting that most people don't know about you?
I'm in love with poetry.
If you won an all-expenses-paid trip to anywhere in the world, where would you go?
Atlantis


If you had 2 hours every week to do anything you wanted, what would it be and why?
I would spend it with my friends and family making them laugh.
Is there anyone you would like to thank or give a shoutout to?
I would like to thank Mrs. Alexander for being such a great English teacher and making her class something I look forward to each day. "The thane of Fife had a wife" - from Macbeth by William Shakespeare


Anything else you would like to share about yourself, your class, hopes, dreams..... ?
I hope that one day we will live in a utopia where all people are accepted for who they are at their core and not for their preferences because at the end of the day we all bleed the same.
Rapid Fire
▶︎
Game to play:
hide-and-seek
▶︎
Sport to watch:
racing
▶︎
Food:
lean chicken and rice
▶︎
Time of day:
dusk, just as the sun is setting
▶︎
Movie:
The Princess Bride
▶︎
TV or online show:
Supernatural
▶︎
Genre of music:
rock
▶︎
Subject in school:
Science
▶︎
Dream Job:
owning a 5-star restaurant