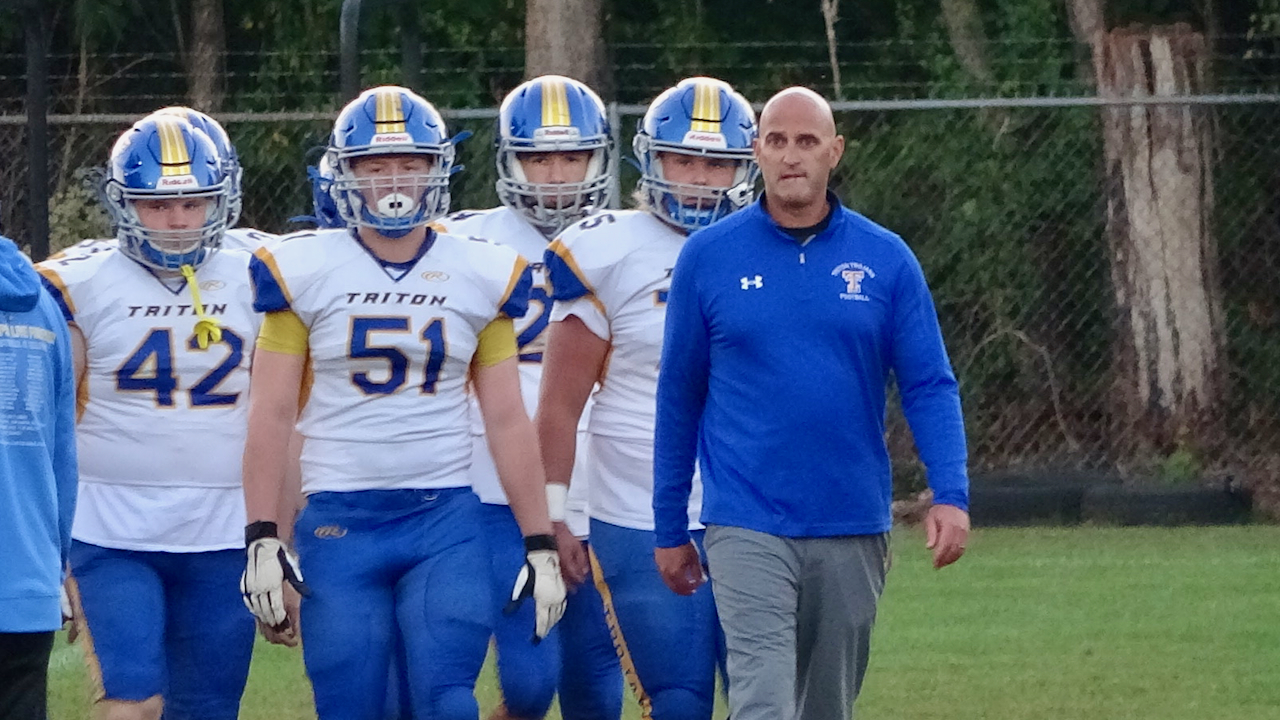 Photo by Orion Lemler - Triton Athletics
Article by Andy O'Hara - TTSN
NORTH JUDSON - Two top 10 teams in 1A found themselves in a battle Friday night. Triton was on a mission looking for their first win against the Blue Jays since 2018. North Judson was looking to stay perfect on the season and keep possession of the traveling HNAC Trophy for another week.
The game started off and Triton did what they needed to do, start off fast. Anthony Schuh carried the ball 70 yards down the field on Triton's first drive of the game. The Blue Jays failed on a 4th down conversion after the Triton defense stood tall and stopped the high-octane offense on their first drive. Later in the 1st Harper hit the speedster, Gabe Ellis, for an 82-yard Blue Jay touchdown run.
In the second quarter, North Judson went up by two scores, and Triton was trying all they could to keep up with the Blue Jays. Cole Shively slithered his way for a 37-yard score to bring the team within a score. Despite their best efforts, Triton could not get back out in front. They worked hard but unfortunately, turnovers and penalties held them from coming back.
Triton never backed down despite what the scoreboard showed, which is a testament to the leadership and character of these young men. We saw a team who has the ability to play with some of the best teams in the state. The Trojans had 389 yards of total offense as Anthony Schuh (22-163-2) and Cole Shively (15-96-1) continued to show their dominance on the ground. The Triton passing game was highlighted by Dante Workman and Evan Briles. Both had some very nice catches with some space to run. The Defense forced two turnovers inside the final two minutes of the first half. And we continue to see chaos being created by these guys, as Cole Shively and Wayne Reichert came away with the two turnovers.
While this loss does not define or decide the season Triton still has plenty of time to bounce back from this. History shows that teams are capable of bouncing back after a tough loss during the regular season. There have been teams from high school all the way to the pros who have beaten the odds. Triton has this opportunity to grow from this loss, and only get stronger as a team both on and off the field.
The Trojans will finish the regular season with a two-game homestand. Knox will visit first followed by Winamac.
Stats Provided by Brandon Haines and Ben Waymouth
Triton 7 8 0 7 - 22
NJSP 8 21 14 19 - 62
Triton's Record: 5-2; 3-2 HNAC
Did you take pictures of these events? Share them with us at sports@triton.k12.in.us or text 574-646-0066