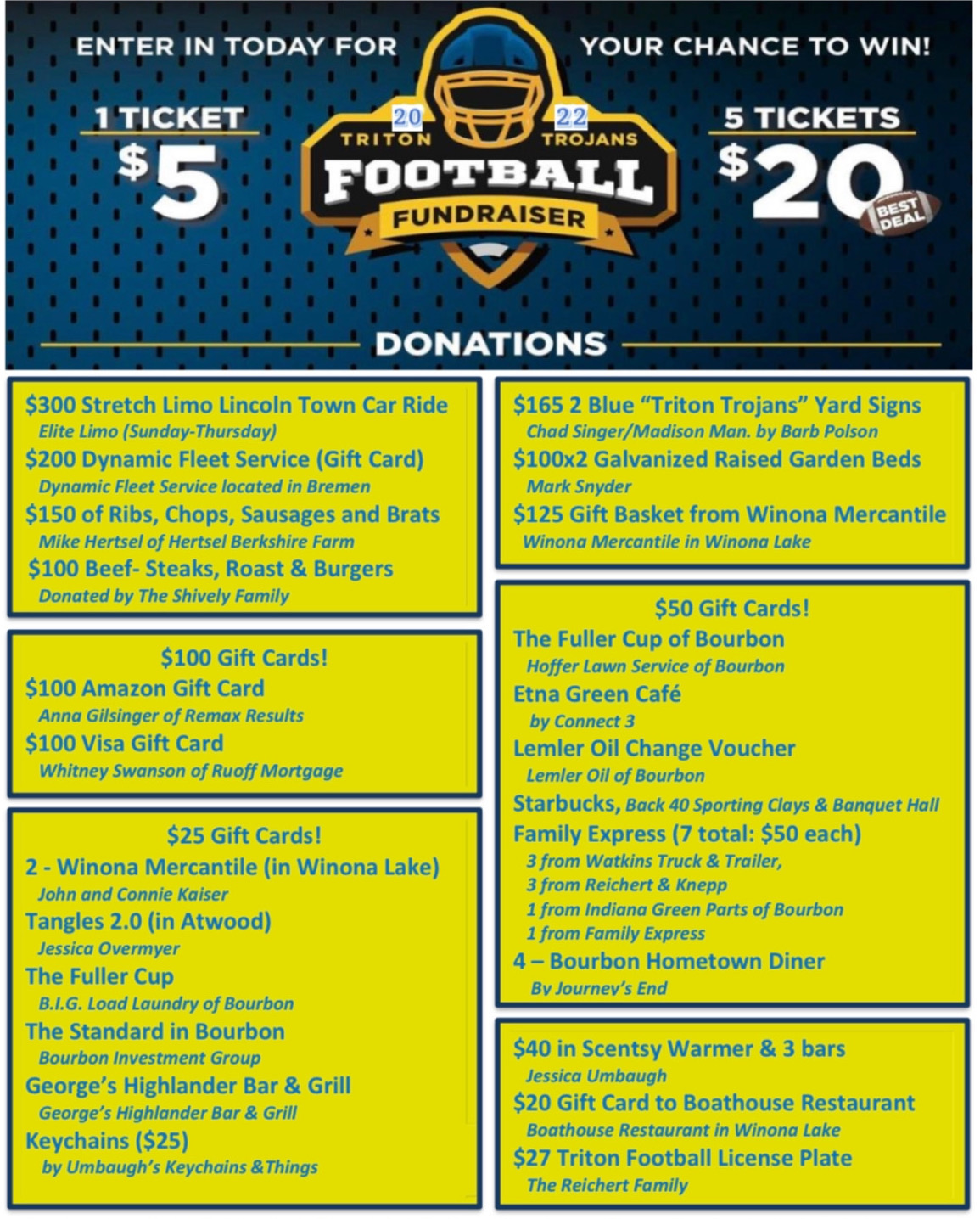 All monies raised will go to the Triton football Team, to help fund Team Dinners, new uniforms, and much more.
Drawings will take place at every home game this year!
Contact any THS football player for tickets and/or questions, please contact: Lori Shively @ 574.532.5166 or lori.shivelv@yahoo.com or text Heather Reichert @ 574.268.7481
You do not need to be present to win.
Non-winning tickets stay in the pool for the next drawing.
Thank you for supporting our team and investing in Triton Jr./Sr. High School athletics!
Raffle Prizes
$300 Stretch Limo Lincoln Town Car ride
Donated by Elite Whiteman Limo EliteWhitemanLimo.com Serving Northern Indiana
$200 Gift card for preventative maintenance on any passenger vehicle (gas or diesel) Including filters, fluids, inspection, and labor
Donated by Dynamic Fleet Service located in Bremen
$100 Amazon gift card
Donated by Anna Gilsinger of Remax Results 574-274-3469
$100 Visa gift card
Donated by Whitney Swanson of Ruoff Mortgage 574-549-7320 Whitneyswanson.com
$25 gift card to Tangles 2.0 Donated by Jessica Overmyer located in Atwood
$25 gift card to the Fuller Cup
B.I.G Load Laundry is located in Bourbon
$25 gift card to The Standard
Donated by Bourbon Investment Group
provides affordable housing with 16 residential rentals for over 10 years in Bourbon/Triton territory.
Ran by Chris and Lisa Hammond 574-551-2939
$25 gift card to George's Highlander Bar and Grill
Donated by George's Highlander located in Etna Green
$50 gift card to the Fuller Cup
Donated by Hoffer Lawn Service located in Bourbon
$50 gift certificate to Lemler Oil
Donated by Lemler Oil Located in Bourbon
$50 Starbucks gift card
Donated by Back 40 Sporting Clays and Banquet Hall located in Bourbon
$50 gift card to Family Express
Donated by Watkins Truck and Trailer Maintenance & Repair 2 locations, Bourbon and Plymouth
$50 gift card to Family Express
Donated by Reichert and Knepp Inc Wrecker Service
4 Locations, South Bend, Ft. Wayne, Plymouth, and Warsaw
$50 gift card to Family Express
Donated by Green Parts of Bourbon located in Bourbon and onlineIndianagreenparts@gmail.com
4 $50 Bourbon Hometown Diner
Donated by Journey's End located in Bourbon
The Hometown Diner is located right beside Journey's End