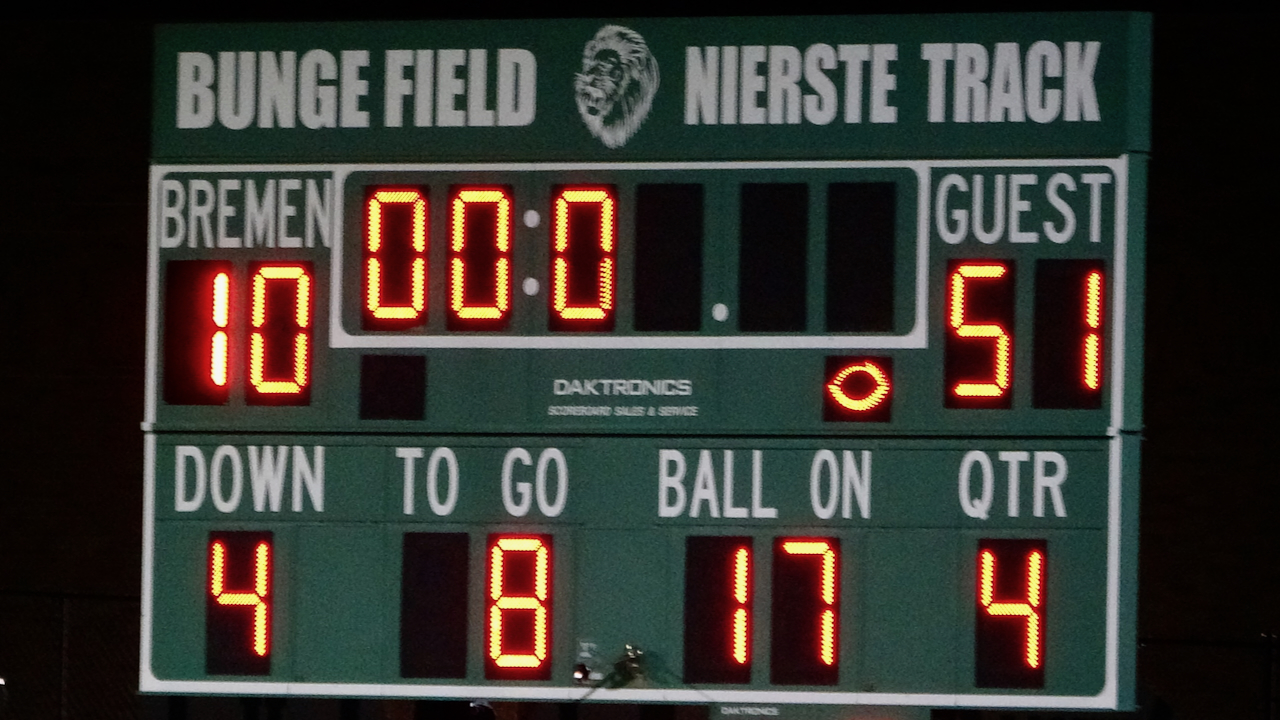 Final score from Bremen
Article by Andy O'Hara - TTSN
BREMEN - The war between Bremen and Triton has been a long-lasting one. As parents, we tell our older children that the younger siblings one day will get retribution for the things the older siblings have done to them.

While Bremen has not done anything malicious, they have lit up the scoreboard and won all but 5 contests against Triton. As for tonight, the younger brother took big brother and wouldn't let up.

The "Battle for 331", began with two teams struggling in the opening drives. A blocked punt up front led to Bremen striking first with an Angel Estrada field goal from 24 yards away. Then Triton took control, Cole Shively showing off his athleticism led his team down the field and scored from 1 yard out. From there Triton never looked back as Anthony Schuh (16 carries, 219 yards, 5 TDs), and Cole Shively (10 carries, 149 yards, 2 TDs) used their skills on the ground to light up the scoreboard.
Triton's defense set the tone, as Triton took care of business in the trenches. The defensive line took control allowing their brothers behind them to play some stellar defense. The leadership on defense was contagious, as they were hard-hitting from the get-go and never let up. Even when things got tough, they still dug deep together and found a way to adapt and overcome. The secondary with Cole Irvine, Dante Workman, Amari Snyder, and Cole Shively clamped down to keep the passing game grounded.

With that giving time for the defensive line and linebackers to do what they do best, simply wreaks havoc. The Trojan defense forced two interceptions, two fumbles, and two sacks, and on 11 Bremen 3rd downs, they did not allow a single conversion!

The offense again was electric and showed off their quick strike ability, as well as show they can sustain a drive. The offensive line was solid all evening, they kept true to their assignments, and opened running lanes for Cole Shively, Anthony Schuh, and Javan May all ample opportunities to get into open space and move the football. The offense racked up 492 yards of total offense on 41 plays, averaging 12 yards per play. They had 17 first downs in the game and made the most out of their moments scoring 4 times in the RedZone.

This is the first time since 2009 that Triton has defeated Bremen and makes three times in Coach Younis's coaching career that his teams defeated the Lions. The Trojan's record improves to 3-1, and next week it's back to conference action as they welcome the Culver Cavaliers (2-2, 0-2 HNAC) to the Trojan Tundra next Friday night. We hope to see you all fill up the stands to come out and support our boys next week at home!
Stats Provided by Brandon Haines and Ben Waymouth
Triton 14 14 16 7 - 51
Bremen 3 7 0 0 - 10
TTSN Replay
Replays are available for 7 days after the start of the game.