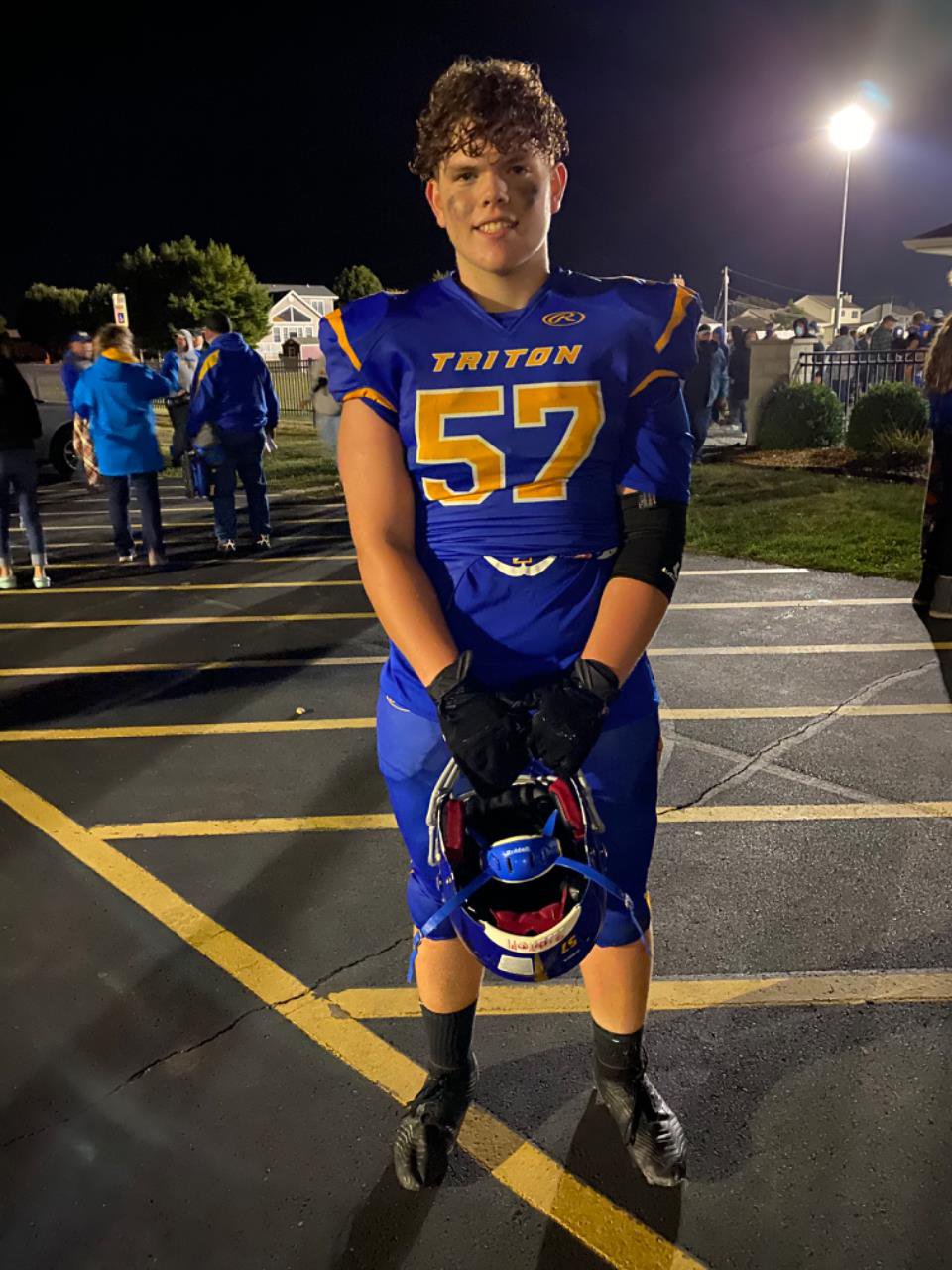 Cameron Fairchild #57
Cameron James Fairchild, 17, Warsaw, passed away on Saturday, Aug. 28, 2021, in Wells County. Born April 25, 2004, in Warsaw, Cameron was the son of Ashley Carpenter and Billy Fairchild.

Cameron was a member of Warsaw Community Church where he accepted Christ as his personal Savior. Cameron attended WCC student ministries. He enjoyed working during summer break at Heiman Construction. He loved playing football, weightlifting, and spending time with his family and friends. He especially enjoyed taking welding classes at Plymouth through Ivy Tech.

Cameron is survived by his mother, Ashley Carpenter and Brodie Ewert of Warsaw; and his father, Billy Fairchild of Syracuse. Surviving maternal relatives include grandparents, Kirk and Linda Swaidner of Winona Lake; Ted Carpenter and Robin Racolta of Bourbon, great grandparents, Charles and Elaine Fletcher of Etna Green, Verna and Wayne Carlin of Warsaw, Mary Carpenter and late Charles Carpenter of Etna Green, Jane Brallier and late Art Brallier of Winona Lake, Ward Swaidner of Michigan; uncles, Scott Swaidner of Lafayette, Cody (Lacy) Carpenter of Nellis AFB, Nev., and his special friend, Kora Slone.

Paternal surviving relatives include grandparents, Jenette and Bart Aker of Winona Lake; James Fairchild of Kentucky; aunts, Jessica Fairchild, Alyssa Lake, Stephanie Alsoudani, Kim Elisech, Paula Altamirano and Jenny Shepherd; siblings, Jeremiah Moody, Kennidee Reiff, Tanner and Taylor Reynolds and Marleigh Santamaria.

A visitation with family and friends is planned from 3-8 p.m. Thursday, Sept. 2, at Warsaw Community Church. A funeral service in celebration of his life will begin at 11 a.m. Friday, Sept. 3, 2021 at Warsaw Community Church. Pastors Jordan Ickes and Ken Cooke will be officiating the services. Interment will follow in Etna Green Cemetery.

Memorial donations to assist Cameron's family may be made to: McHatton-Sadler Funeral Chapel 2290 Provident Ct. Warsaw, IN 46580

To Sign the Guestbook or Send a Condolence go to www.mchattonsadlerfuneralchapels.com
---
Family, Friends Remember The Life Of Cameron Fairchild
Connor McCann, Times-Union Sports Editor
Wednesday, September 1, 2021
BOURBON – The beginning of the school year is usually an exciting time. Kids get to see their friends after summer break, friendships are renewed and the lights shine bright on Friday night football games. It's a time of year most look forward to, and the memories can last a lifetime.
But for a large chunk of this community, that excitement has been overshadowed by heartbreak.
The tragic death of 17-year-old senior Triton football player Cameron Fairchild in an automobile accident that left two others injured Saturday has left a lot of people looking for answers. But it's also led to the sharing of a lot of good memories. It's led to a fond remembrance of the person he was.
It's led to a celebration of life. Cameron's life.
"He was very easy going, very loving. He would do anything for anybody," Fairchild's mother Ashley Carpenter said. "He would do anything for his family."
Warsaw Community Church Pastor Ryan Langeland agreed.
"His kindness and his maturity really stood out. He was comfortable talking with anyone, and genuinely looked out for students that were younger than him because he wanted to be a good leader and a good example," he said.
Fairchild was a part of WCC's youth group, attending meetings as well as summer experiences like camping and mission trips. In 2019, he was part of a mission that helped people after Hurricane Michael. In every sense of the word, he was a leader.
"He was raised in a single household, and he was the oldest. Cameron led the family. He was always there for his sister. He'd cancel his plans if she needed him for anything," Cameron's grandmother Linda Swaidner said. "He'd give his lunch money to other kids. We'd put money on his lunch account every day and ask him 'why do you need it again?' and he'd say 'well so-and-so didn't have any money on their account so I bought them lunch today."
Fairchild spent one year at Triton high school after transferring from Warsaw. Triton Superintendent Jeremy Riffle said even in just one year at the school, the impact he made will last for a long time.
"He went out of his way to connect with his bus drivers, our secretaries, his teachers," Riffle said. "In just over a year he was here with us, his impact was tremendous. He walked into a room and it lit up.
"He made everybody feel special."
Cameron enjoyed playing video games, sports, hanging out with friends and other things typical teenage boys enjoy doing. But that was only the tip of the iceberg. At 14-years-old, he worked as a server at Grace Village Retirement Community. He spent his summers working construction for Heiman Construction.
"He was such a hard worker. The guys loved having him on the site, whatever you asked him to do, he would do it," Heiman Vice President J.C. Stookey said. "He was a good-natured kid and a good friend to my son."
It's not something anyone ever dreams of happening, and it's not something that's ever supposed to. But throughout this unimaginable time, Carpenter says the support she's received from the community has been tremendous.
"Hundreds of people I don't even know have reached out to me," she said. "People who have dealt with similar things with their children have let me know I'm not alone," she said. "Warsaw is making ribbons to wear on their jerseys Friday. Whitko turned their football field lights on [Saturday night]. Triton has done all kinds of stuff. Car decals, shirts, they're canceling school Friday so they can attend the funeral."
The Triton community has been hit hard by the loss, but Riffle says the school has been doing a great job of being there for each other.
"A lot of that is hugs and conversations. You don't usually see students coming in and walking through the halls crying and vulnerable to staff members," Riffle said. We have a lot of students that are hurting right now, but they see their friends hurting too and they are there for each other."
When one story about Cameron's positivity and kindness ended, another one was quick to follow. Family friend Misty Piper-Mayle said that she admired his giving heart. "My son admired him because he had a great fashion sense. He loved his clothes, he loved his shoes," Piper-Mayle said.
"My son fell in love with a pair of his shoes, and they were an expensive pair of shoes, and Cameron didn't even bat an eye, didn't even think about it. He just said 'here' and gave them to him. He did that all the time. He always looked out for his friends."
Fairchild also enjoyed taking welding classes at Plymouth High School through Ivy Tech. Besides his dream of going to the NFL, he wanted to be a professional welder one day.
"He told me he would make some good money doing it and I would never have to work," his girlfriend Kora Slone said.
While the tragedy remains fresh and the current heartbreak seems insurmountable, it's important to look back on the positive moments and cherish them. Cameron may no longer be on this Earth, but the impact he left on it and those who knew him will never leave it.
"We will never forget him," Swaidner said.
"He would do anything for me at the snap of a finger," said Slone.
"I think he'd want us to be happy. I think he'd want us to rejoice that he was with us for 17 years," Carpenter said tearfully. "I think he'd tell us all jokes to make us feel better.
"I know he wouldn't want us to be sad."
---
On The Passing Of Former Tiger, Trojan Senior Cam Fairchild



Roger Grossman, Lake City Radio
Tuesday, August 31, 2021
I had already written my column for this week when my phone started dinging Saturday, and it wouldn't stop.

I picked up my phone, I read what it was telling me, and then I put it back down and stared out into the withering heat of Saturday.

It said: "Triton football player killed in crash Saturday."

I picked it back up and went on to read that not only was it a Triton player who had died in that accident in Wells County over the weekend, it was a Triton player who had been a Warsaw football player just two years before.

Cameron Fairchild.

My heart sunk into my stomach.

It would be misleading to say that I knew this young man well, so I won't try to pretend that I did.

But on Thursdays for 31 seasons I have been going to football practices and getting out on the field with the guys. We talked several times — always football related. I would ask him quietly "what's your job on this play?" or "why is that play called "ice cream?" I learn so much about football during those times, and I start building relationships with the younger players

He always answered firmly. He never flinched.

I doubt he would have invited me to his graduation party, but if he had, I would have gone.

Unfortunately, Triton is in mourning again. They know how this feels all too well. It's only been four years since Cameron Scarberry died in a car crash here in Kosciusko County.

He'll be missed, in Bourbon, and in Warsaw.

His former Warsaw teammates and friends took to social media Sunday as the news spread to pour their hearts out over his loss. They posted pictures they had taken with him after games.

He had changed schools and jersey colors, but he always was and always will be just "Cam" to them.

May God have mercy and pour out His love on Cam's family and those who knew him best in both communities.

That tragedy is a profound reminder that we are guaranteed nothing in this life except for the moment that we are living in. The next one is fleeting, and could disappear like a vapor in a swirling breeze.

We must take every practice, every game, every team meal, every family dinner, every road trip, every family gathering, every time we see each other as a tremendous opportunity to love each other.

We are wasting time fighting over stuff that never takes us anywhere. Stuff that is important, but stuff that should be spoken in truth and grace and those encounters should make relationships better, not worse.

How many people wish that they had one more opportunity to talk with Cameron, laugh with him, put their arm around him or their hands on his shoulder, his helmet or that thick head of hair he had underneath it?

We can't change that now…not for Cam, anyway.

But we can become resolved to make a difference in our own corners of the world by just being nice to each other. We can tell people how much we appreciate them and what they do with us and for us, and how much we enjoy doing things for them.

Whether they are seven or seventy, it makes no difference.

Whether they think the same way as you makes no difference.

Whether you are a huggy person like I am, or not as much — it makes no difference.

Love people….while you can.

The game clock of this life is ticking down on us. With every passing second, that ticking gets louder and louder and louder. And the craziest part is: we can't see that clock. We don't know how much time is left on it.

Equally crazy: too many of us have chosen to ignore the ticking of that clock as it becomes more like a pounding base drum.

Someday, that sound will stop for all of us.

No two-minute warning. No white flag waving to signal your final lap. It'll just be over…ready or not.
---
---
It is with sad and heavy hearts that we are making our community aware of the passing of Triton Scholar Cameron Fairchild. At around 1:30 pm today, Cameron was involved in a car accident. School personnel, counselors, and clergy are at the school for those who may need a safe space to speak with someone or grieve. We ask that you lift Cameron's family up in prayer as we do our best to support them, our student body, and staff through this difficult time. Tell the ones close to you that you love them and may this difficult time be a reminder to all of us to not take those around us for granted. Thank you Triton Community for your prayers and unwavering love for our scholars through the coming days and weeks.
Trent Barnhart/TRITON ATHLETICS
Trent Barnhart/TRITON ATHLETICS
Trent Barnhart/TRITON ATHLETICS
Trent Barnhart/TRITON ATHLETICS
Trent Barnhart/TRITON ATHLETICS
Trent Barnhart/TRITON ATHLETICS
Trent Barnhart/TRITON ATHLETICS
Trent Barnhart/TRITON ATHLETICS
Trent Barnhart/TRITON ATHLETICS
Trent Barnhart/TRITON ATHLETICS
Trent Barnhart/TRITON ATHLETICS
Trent Barnhart/TRITON ATHLETICS
Trent Barnhart/TRITON ATHLETICS
Trent Barnhart/TRITON ATHLETICS
Trent Barnhart/TRITON ATHLETICS
Trent Barnhart/TRITON ATHLETICS
Trent Barnhart/TRITON ATHLETICS
Trent Barnhart/TRITON ATHLETICS
Trent Barnhart/TRITON ATHLETICS