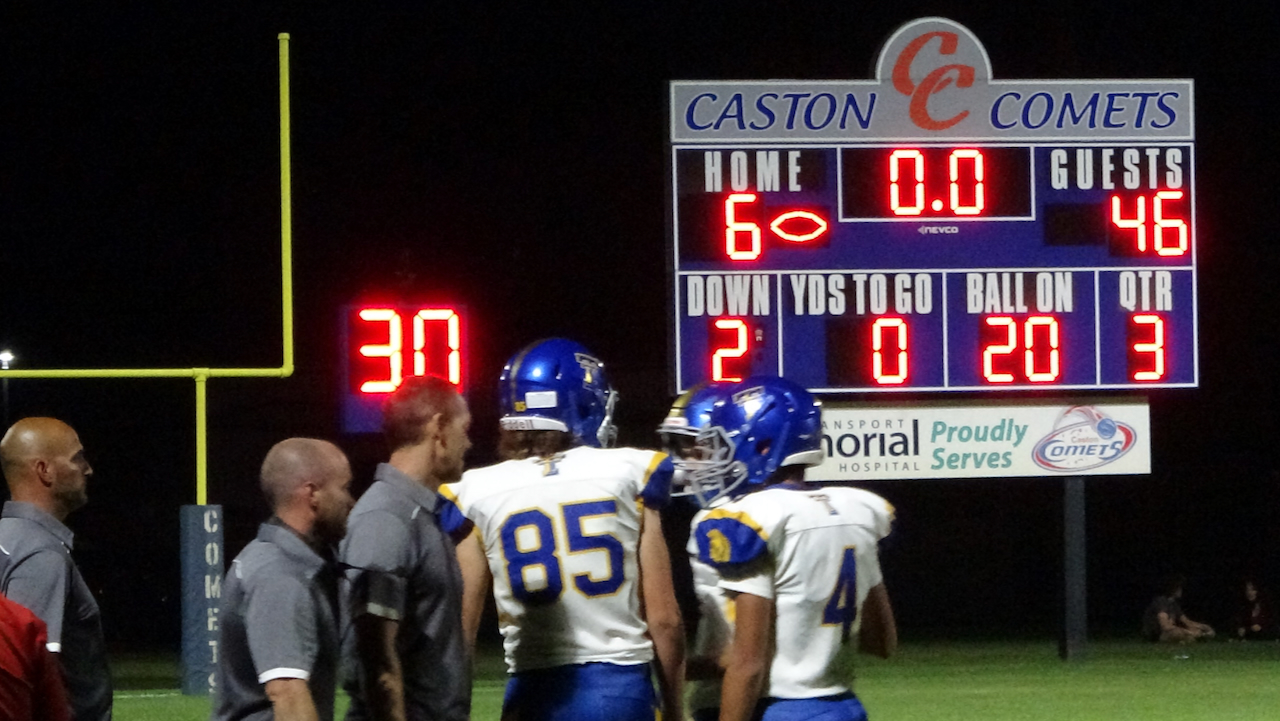 Final Score from Caston - Photo by Orion Lemler - Triton Athletics
Article by Andy O'Hara - TTSN
FULTON - The Comet Crater played host Friday night to two teams in search of their first conference win. The last time the Trojans and Comets squared off at Caston, it was a one-score game that came down to the final minute.
This time around, Triton took care of business even in moments where they struggled. The Trojans adjusted and overcame some fierce play and tough moments in the first quarter. The Trojan ground game has been a juggernaut all season. Coming into Friday night's contest on the season with 623 yards on the season, with 560 of those yards coming from the ground game.
Triton opened with the ball and right off the bat swung for the fences on a beautiful pass from Cole Shively to Amari Snyder on a 45 connection. That connection led to a 5 play 93-yard drive, ending with a Cole Shively touchdown. Amari Snyder came up HUGE again with an interception, after an overthrown Shafer pass. Anthony Schuh rumbled in for a score from 16 yards out. After that the Caston balanced attack came alive, connected some quick passes, and Shafer scored from 8 yards out.
After that score Triton went on to put up 32 unanswered points to setup the running clock. Anthony "Beast Mode" Schuh put up a season high 220 yards and 4 scores that came from 13 carries, and he also had 1 catch for 37 yards. With this stellar game on the ground Schuh now has 591 yards on the ground through 3 weeks. Cole Shively followed that up with 27 yards and two scores on the ground, and 104 yards through the air.
The Trojan's defense was stellar after some mishaps with penalties. Leadership from this talented defensive unit adjusted in the pass game, as the defensive line controlled the tempo and was a force the entire game. We saw Cam Shively take over along the line that changed the tempo. The other lineman in Esai Lemler, Evan Briles and Tucker Worsham gobbled up lineman, giving their linebackers ample opportunities to slow down the Caston offense. They were vocal, confident, and found a way to adapt and overcome.
The early showing by the starters provided the freshmen some valuable time on the field that the next generation of Trojan football players took full advantage of. Vinny Prater had some long runs amassing 87 yards on 7 carries. Gage Riffle connected with Cameron Callahan for 35 yards.
Triton improves to 2-1 on the season as they will travel north next week to take on the Bremen Lions.
Stats Provided by Coach Haines
Triton 14 25 7 0 - 46
Caston 6 0 0 0 - 6
TTSN Replay
Replays are available for 7 days after the start of the game.