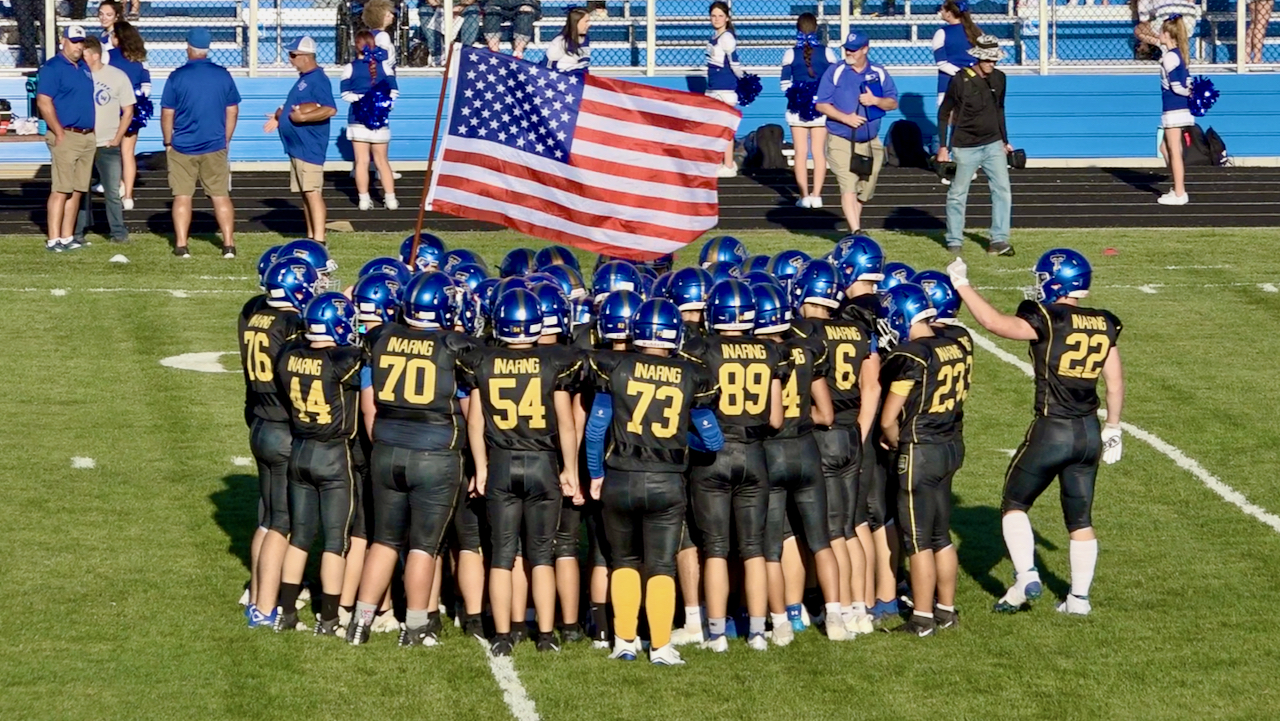 It was Army National Guard night at Triton - Photo by Orion Lemler - Triton Athletics
Article by Andy O'Hara - TTSN
BOURBON - The energy from "The Trojan Tundra" was electric in Bourbon, on Friday night. Fans packed the newly renovated stands, and both crowds were fired up for their respective teams. As LaVille and Triton started out conference play, both teams were impressive from the start.

Triton opened up with the ball to start the game, and LaVille's defense stood tall and forced a Triton punt. LaVille capitalized on that drive as Paul DeWitt scored from 16 yards out, to put the first points on the board. Lucas Plummer added his first PAT (7-7 PATs) of the night. Triton was forced to punt on their second drive, and then LaVille took to the air on a 41-yard bomb, Plummer to Smith. Which set up a 16-yard scramble to put LaVille up by two scores.
The Trojans dug deep as they showed grit and heart as the defense came alive. Then on their next drive Anthony "Beast Mode" Schuh took the ball on some nice blocking from the Trojan front, 68 yards to put Triton on the board. The Trojan defense showed why they're a stellar unit and stopped LaVille on 4th down to take over. They moved the ball effectively, as they loaded up a convoy that saw Cole Shively
score from the 1. A 2pt conversion knotted things up at 14.
Before the Half LaVille got the lead after a 44-yard pitch and catch, that set up a Plummer touchdown run. LaVille didn't look back as they went on to score 42 unanswered points en route to their second win of the season.
While LaVille did put up some impressive stats, Triton was just as good in as many areas. The Trojans won the battle on the ground (41 carries for 230 yards) Led by Anthony Schuh with 152 yards on 17 carries. The defense had some very nice moments only allowing LaVille to convert 1 of 4 third downs, and 1 of 3 on fourth down.

The excitement is still there for Triton, as the season is not decided in the 2 nd week. This group has potential, they have leadership, and they have the ability to rise to the occasion no matter the scenario.
While winning is great, a loss can humble you and give you the greatest gift of all, a chance to improve and grow stronger. Some of the greatest teams to grace the gridiron, have grown from tough moments and losses. The Trojans are just scratching the surface of what they are capable of. The battle was lost in this one, but the war is far from over for this sleeping giant of a team.
Up next Triton (1-1) starts a two-game road trip, as they head to Caston (0-2) in week 3.


Stats Provided by Coach Haines
LaVille 7 14 28 7 - 56
Triton 0 14 0 0 - 14
Scoring Summary:
1st 02:01 LAVL - DeWitt 16 yd run (Plummer kick), 11-90 5:09, LAVL 7 - TRIT 0
2nd 09:47 LAVL - Plummer 7 yd run (Plummer kick), 5-49 1:58, LAVL 14 - TRIT 0
07:19 TRIT - A. Schuh 68 yd run (Co. Shively kick blockd), 5-80 2:28, LAVL 14 - TRIT 6
01:38 TRIT - Co. Shively 1 yd run (Co. Shively rush), 8-51 3:39, LAVL 14 - TRIT 14
00:42 LAVL - Plummer 4 yd run (Plummer kick), 5-65 0:55, LAVL 21 - TRIT 14
3rd 09:59 LAVL - Smith 40 yd pass from Plummer (Plummer kick), 6-65 2:00, LAVL 28 - TRIT 14
07:03 LAVL - DeWitt 34 yd run (Plummer kick), 4-71 1:24, LAVL 35 - TRIT 14
06:59 LAVL - Smith 41 yd pass from Plummer (Plummer kick), 1-41 0:00, LAVL 42 - TRIT 14
05:07 LAVL - DeWitt 3 yd run (Plummer kick), 1-3 0:00, LAVL 49 - TRIT 14
4th 07:00 LAVL - 11 31 yd pass from Schwitz (Nettrouer kick), 1-31 0:20, LAVL 56 - TRIT 14
LaVille Triton
First downs 17 12
Yards rushing 33-216 41-230
Yards passing 208 26
Att.-comp.-int. 9-7-0 8-5-0
Punts-yards 1-7 0-0
Fumbles lost 0-0 4-2
Penalties-yards 2-30 4-34
TTSN Replay
Replays are available for 7 days after the start of the game.