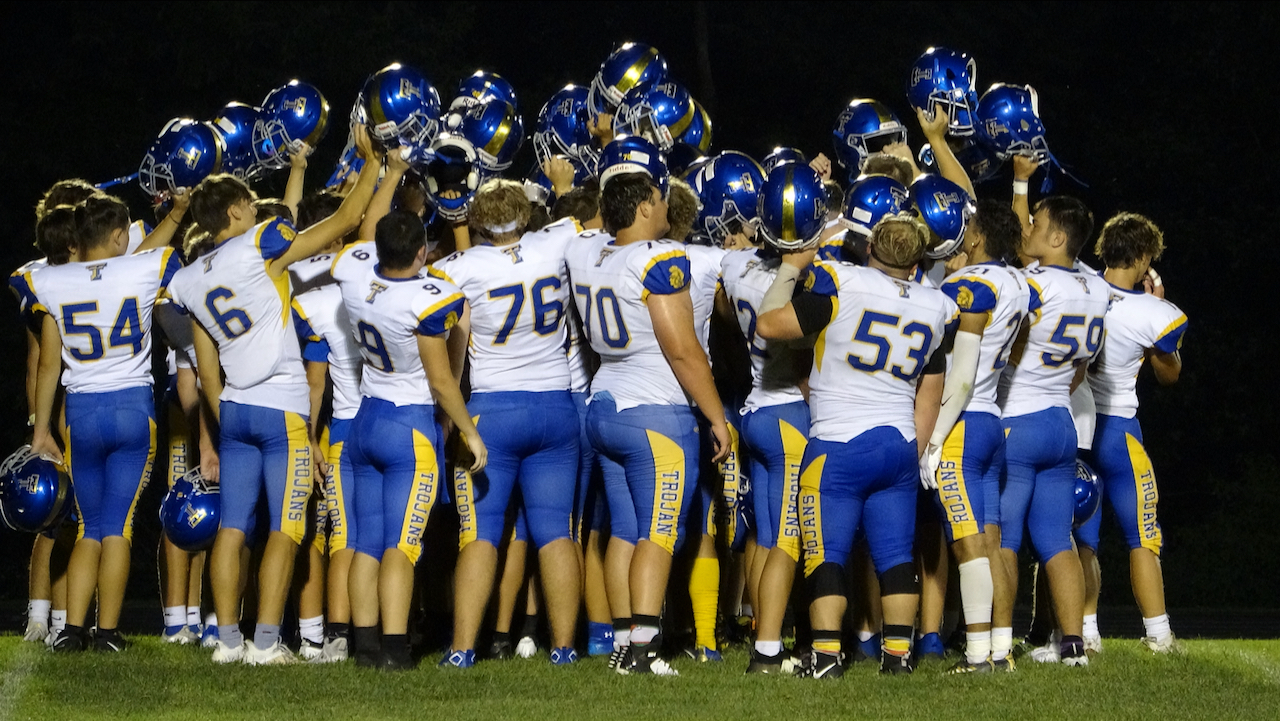 Photo by Orion Lemler - Triton Athletics
Article by Andy O'Hara - TTSN
UNION MILLS - The end of Summer is near, which means fall sports are back in action. The road to Lucas Oil Stadium for high school football teams across the state began Friday night. Triton saw themselves traveling west on US 30 to a different time zone taking on a potential sectional opponent in the South Central Satellites.

South Central began the game with possession of the ball, and the Trojan defense came out firing and ready to hit forcing a three and out. A punt by the Satellites and a nice return from Dante Workman allowed Anthony "Beast Mode" Schuh to hit pay dirt from 49 yards away.
The Trojan running game was powerful all night. Anthony Schuh put up video game numbers from the running back, position, scoring 4 times (47,7,48,70) with 230 yards from scrimmage (219 rushing, 11 receiving). He was not alone as Junior Quarterback Cole Shively had 84 yards and two scores, a 2pt conversion, and connected 5 of 6 PATs.

Triton's defense was stifling from the get-go, forcing a 3 and out on the first drive. The Trojan front line was strong sacking the quarterback 3 times and holding South Central to 33 yards on the ground. "The Lumberjack" Reilly Wood was clear-cutting the South Central offense with 10 tackles (4 solo and 6 assist), 2 sacks, and 3 tackles for loss. Tucker Worsham followed up with a sack, 2 tackles for loss, and a fumble recovery. Triton was keyed in on their assignments and took care of business pitching a shutout as a defensive unit.
The Trojans have a huge test against rival LaVille for their home opener from The Trojan Tundra on
Friday night.
Stats Provided by Coach Haines
Triton 20 22 7 0 49
South Central 0 0 0 0 0
T: Anthony Schuh 49 run (Cole Shively kick)
T: Reilley Wood 7 run (kick failed)
T: Schuh 7 run (Shively kick)
T: Shively 18 run (Shively kick)
T: Schuh 48 run (Shively run)
T: Shively 18 run (Shively kick)
T: Schuh 78 run (Shively kick)
Triton S. Central
First downs 13 6
Yards rushing 344 33
Yards passing 37 19
Att.-comp.-int. 5-2-0 13-2-0
Punts-yards 0 7-30
Fumbles lost 1 1
Penalties-yards 4-34 3-20
TTSN Replay