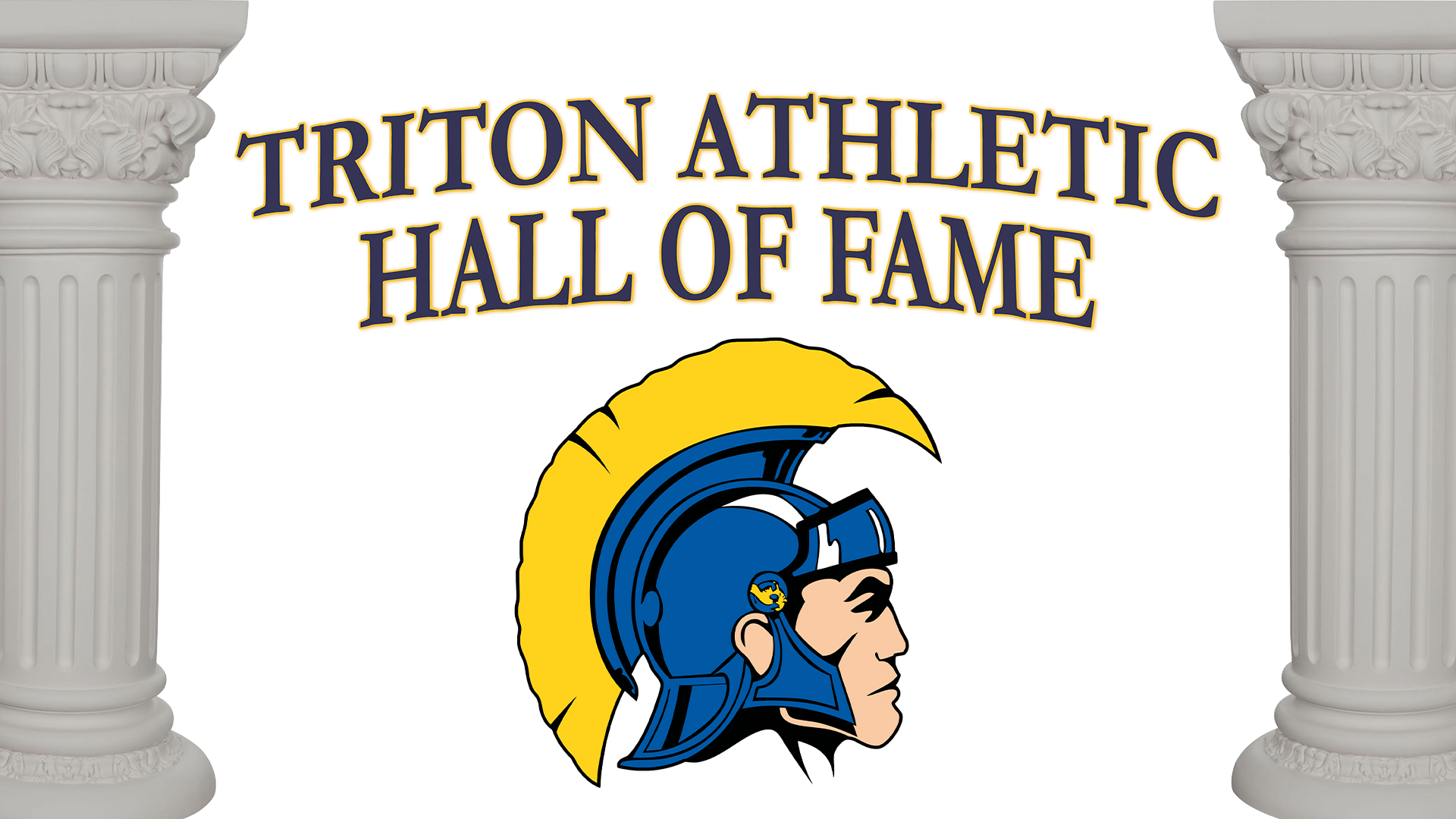 BOURBON - The Triton High School Athletic Department is proud to announce the next class to be inducted into the Triton Athletic Hall of Fame. The class of 2022 will be the eleventh class inducted.
Since the school's inception during the 1963-1964 school year, many athletes have worn the blue and gold. While all athletes have played a role in Triton's success, the Hall of Fame will recognize those Trojans who set themselves apart on the playing fields and the courts of Triton High School and beyond. These athletes won acclaim for running the fastest, jumping the highest, winning championships, and otherwise distinguishing themselves in high school, college, and at professional levels. To honor these high school sports legends, the Triton Athletic Department will annually induct new members into the ranks of the Triton Athletic Hall of Fame.

The Hall of Fame will induct candidates into the following categories: Athlete, Coach, Alumni, and Contributor. To be eligible to be inducted as an athlete, the candidate must be a graduate of Triton High School and must have participated in interscholastic athletics while at Triton. The Selection Committee will be looking for those athletes who set themselves apart by receiving, among other things, conference and state-wide recognition. In order to be eligible to be inducted as a coach, one must have coached at Triton High School for at least five years and must be inactive at the time of the induction. An Alum is a Triton graduate who has made it a purpose to be involved with athletics beyond high school (ex. Officiating, broadcasting, college coach, etc). A contributor is someone who has given of themselves for the betterment of the Triton Athletic Department.
The class of 2022 will include two athletes, one coach, and one contributor. Triton Athletic Director Rick Yarbrough said, "The selection committee did an outstanding job selecting the Class of 2022. The selection process is always difficult, but the committee was able to narrow it down to the group that they felt most deserved to be inducted into the Class of 2022."
The first athlete to be inducted is 2000 graduate Melissa Branam (Nifong). Melissa was a five-time varsity letter winner earning three letters in Volleyball, and two letters in Basketball. She was named Triton Female Athlete of the Year 1999-2000, Basketball MVP 2000, and a member of the 2000 Girls Basketball State Championship Team. Melissa was also named to the Area Basketball All-Star Team in 2000 and named their MVP. After graduating from Triton, Melissa attended Manchester College where she played basketball for three years.
The second athlete to be inducted is 1989 graduate Randy Hooley Jr. Randy was a fourteen-time varsity letter winner earning four letters in Football, four letters in Wrestling, four letters in Track, and two letters in Cheerleading. Randy was a two-time All-Conference Linebacker for the Trojans football team. As a wrestler, Randy was a two-time conference champion, three-time team MVP, and a sectional champion. Randy was a two-time discus conference champion and was conference champion in Shot Put. He was also a two-time Field Event MVP. After graduation, Randy attended Manchester College where he played football and wrestled.
Former Volleyball, Basketball, and Track coach Gayle Perry will be inducted into the Triton Athletic Hall of Fame. Coach Perry worked with multiple programs during her thirty-four-year teaching career at Triton. She was the varsity volleyball coach for twenty-five years and JV coach for one year. During her tenure, the Lady Trojans were Sectional Champions seven times, Regional Champions two times, and made it to the final four twice. Coach Perry spent sixteen years coaching the girl's high school basketball team in various roles and was on staff for the State Championship Teams in 2000 and 2001. She also was the Triton Varsity Track coach for three years. While coaching at Triton, Coach Perry won numerous team and individual coaching awards.
Bill and Marcia Keyser will be inducted into the 2022 Hall of Fame Class as Contributors. Bill coached Varsity Softball for ten years and was instrumental in building the softball diamond and softball concession stand. He was also part of the team that was able to get lighting for the softball field. Marcia announced softball games, kept the book, and ran the scoreboard for softball. She has been a faithful ticket-taker at home events, welcoming people with a smile for years. Marcia coached sixth-grade girls' basketball as that program was getting started for two years. The Hall of Fame weekend will kick off with recognition of these inductees at half-time of the Triton vs. Knox boys basketball game on February 25th. The tip-off for the JV game that evening is scheduled for 6:30 pm EST.

The festivities will be continued during the Induction Banquet on February 26th. The evening will begin at 6:00 PM at the Back Forty Banquet Center in Bourbon. Triton's former Athletic Director Mason McIntyre and current Triton Athletic Director Rick Yarbrough will serve as the Banquet's emcees for the evening. Tickets for the Banquet can be purchased in the Triton High School Main Office beginning February 8th. Tickets will be $25 per person and will include a meal. The last day for ticket sales will be February 19, 2022.
The Triton Athletic Department would like to give a special thanks to the Selection Committee made up of Joe White, Roger Schori, and Jayne Ganshorn. Without the help of these people, this great event would not be possible.