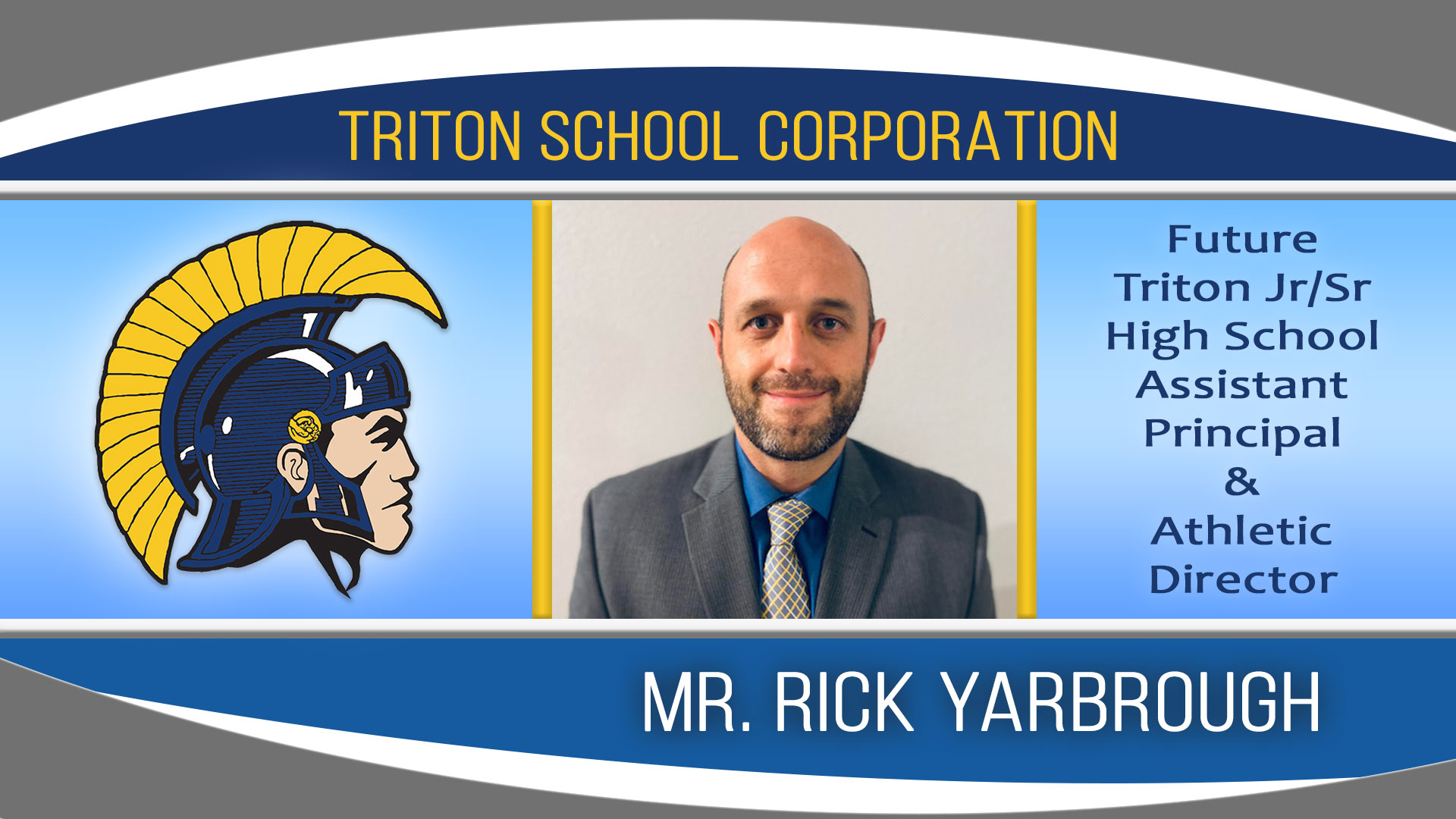 BOURBON - During the Triton Board of Trustees' April 12th meeting, the board voted 5-0 to welcome Mr. Rick Yarbrough as the next Triton Jr/Sr High School Assistant Principal and Athletic Director.
"For those who haven't heard, current Triton Athletic Director and Dean of Students Mr. Mason McIntyre will be moving on after 14 years of excellent service to be the Executive Director of Second Mile Mission based out of Warsaw, Indiana," said Triton School Corporation Superintendent Jeremy Riffle.  "While Mason's place of employment will change, he will still be living out his passion to serve others.  The Triton School Corporation is thankful for Mr. McIntyre and how he carried out his vision of helping make the Triton Athletic facilities second to very few 1A schools."
Since Mr. McIntyre's announcement of resignation, effective at the conclusion of the 2020-21 school year, the Triton School Corporation has been conducting an extensive search for the best candidate to fill the duties of Triton Jr/Sr High School Assistant Principal and Athletic Director.  The intensive interview process is now complete and Triton School Corporation is excited to welcome Mr. Yarbrough to the Triton Family.
Rick Yarbrough was born and raised in southeast Michigan.  After graduating from North Branch High School in 2003, he went on to Great Lakes Christian College where he played soccer.  He then transferred to Spring Arbor University where he completed his bachelor's degree.
After graduating from Spring Arbor, Rick was hired by the Flint Community Schools to work in alternative education.  From 2010-2015, he served in a variety of roles including teaching physical education and social studies, serving as Summer School Coordinator, and Acting-Director of Mott Adult High School.
Rick and his family moved to Tampa Bay, Florida in 2015 where he accepted a position as a physical education teacher at King High School.  At King, he coached wrestling, swimming, volleyball, and girl's basketball.  Rick has also worked with the University of South Florida as a host teacher for students and their professor as part of their education coursework.
In 2017, Rick was named Hillsborough County's High School Physical Educator of the Year.  That same year he graduated from Capella University with his Master's Degree in Educational Leadership.
Since 2019, Rick has served as an Assistant Principal at Blake High School, one of over 287 schools in the Hillsborough County School District, the 7th largest school district in the nation.
"My wife Casey and three children (Luke- Kindergarten, Addison 3rd, McKenna 6th) are all looking forward to joining the Triton community and being closer to my family in Michigan," said Yarbrough.  "I'm especially looking forward to raising my family in a close-knit community like the one I grew up in, see them grow, and reach their full potential while being surrounded by family and friends."
"Rick stated that he has heard great things about Triton from his close friends and wanted to be part of this community for his family and kids' sake," said Riffle. "His experiences have made him a tremendous candidate for this position and he is excited to get to know the Triton School Corporation students, staff, and community over the next few months when he will undoubtedly be traveling back to shadow Mr. McIntyre, introduce himself to our staff, and meet some of our scholars.  I hope you will join me in welcoming Rick and his family to the Triton School Corporation this summer as they begin to serve the community."