All games to be played at South Central (Union Mills) High School
9808 S 600 W, Union Mills, IN 46382
Admission: $6 per session, no season passes (all games) will be sold
▶︎ Session 1
Monday, May 24th
Game #1
6:00 pm EDT
South Central vs. Argos
▶︎ Session 2
Tuesday, May 25th
Game #2
6:00 pm EDT
Culver Community vs. Triton
▶︎ Session 3
Wednesday, May 26th
Game #3 - Semi-final
6:00 pm EDT
Winner of Game #1 vs. Winner of Game #2
▶︎ Session 4
Thursday, May 27th
Game #4 - Semi-final
6:00 pm EDT
South Bend Career Academy vs. LaCrosse
▶︎ Session 5
Saturday, May 29th
Game #5 - Championship
1:00 pm EDT
Winner of Game #3 vs Winner of Game #4
In case of inclement weather during the week, Friday, May 28th will be a rain date.
Gates will open one hour prior to the start of each game.
Restrictions
NO signs, balloons, banners and/or posters
NO artificial noisemakers
NO live animal mascots
NO line-up lanes
Participating school administration should monitor their fans.
Video Taping/ Filming
Per IHSAA guidelines, filming is permitted but no filming devices should be affixed to the backstop.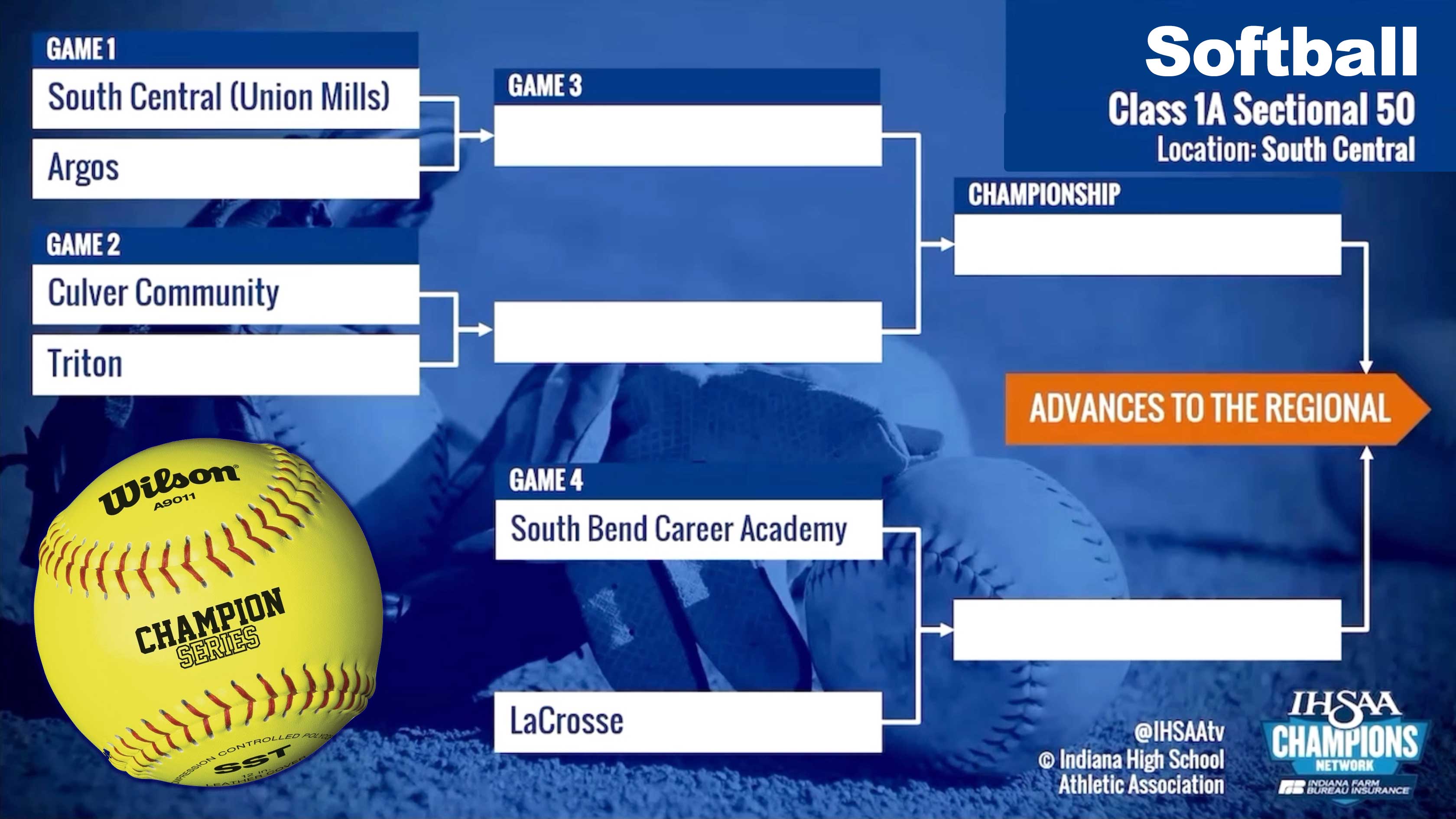 IHSAA Press Release with all pairings
Full 2021 Softball Sectional Pairings Show | IHSAAtv
Regionals
Date: Tuesday, June 1, 2021. Time: 7 pm where possible.
Admission: $8.
Home Team: The winner of the odd-numbered sectional site will host the one game regional and serve as the home team.
The IHSAA reserves the right to approve sites based on minimum standards. 
25. Winner of Sectional 50 at Winner of Sectional 49
26. Winner of Sectional 52 at Winner of Sectional 51
27. Winner of Sectional 54 at Winner of Sectional 53
28. Winner of Sectional 56 at Winner of Sectional 55
29. Winner of Sectional 58 at Winner of Sectional 57
30. Winner of Sectional 60 at Winner of Sectional 5
31. Winner of Sectional 62 at Winner of Sectional 61
32. Winner of Sectional 64 at Winner of Sectional 63