INDIANAPOLIS - For the 36th year, the pairings for the IHSAA Softball State Tournament were announced this evening and 371 teams placed into sectional brackets. Sectional action runs May 24-29 with the 64 survivors moving into a one-game regional round on Tuesday, June 1, and the four-team semi-states on Saturday, June 5. The four state championship games, scheduled for Saturday, June 11-12, will be played at Center Grove in Greenwood for the first time. Host schools will announce playing schedules in the days to come which will then be added to the online brackets at MaxPreps.com the week before the tournament begins.
Sectionals
Dates: May 24-29, 2021.
Times: Determined by host school.
Admission: $6 per session; $10 season (Season tickets may be provided for tourneys with three or more sessions).
Home Team: The second-named team in each pairing is the designated home team except when they advance by virtue of a bye. Exception: In six-team sectionals, the teams drawing the bye will play in the second semifinal game (Game 4) and will be the visitor in the championship game. 
Sectional 50 at South Central (Union Mills)
G1: South Central (Union Mills) vs. Argos
G2: Culver Community vs. Triton
G3: G1 winner vs. G2 winner
G4: South Bend Career Academy vs. LaCrosse
Championship: G3 winner vs. G4 winner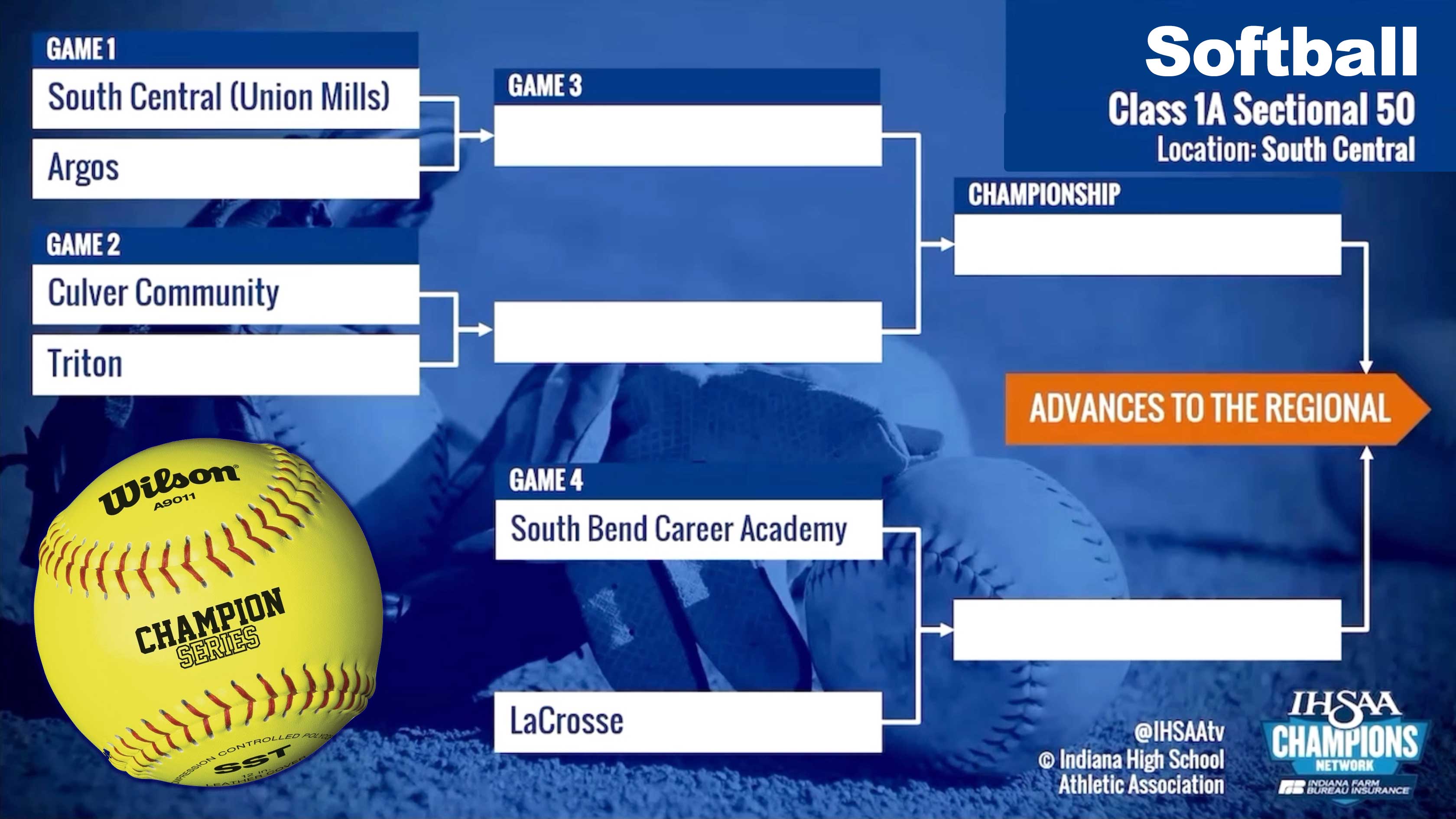 IHSAA Press Release with all pairings
Full 2021 Softball Sectional Pairings Show | IHSAAtv
Regionals
Date: Tuesday, June 1, 2021. Time: 7 pm where possible.
Admission: $8.
Home Team: The winner of the odd-numbered sectional site will host the one game regional and serve as the home team.
The IHSAA reserves the right to approve sites based on minimum standards. 
25. Winner of Sectional 50 at Winner of Sectional 49
26. Winner of Sectional 52 at Winner of Sectional 51
27. Winner of Sectional 54 at Winner of Sectional 53
28. Winner of Sectional 56 at Winner of Sectional 55
29. Winner of Sectional 58 at Winner of Sectional 57
30. Winner of Sectional 60 at Winner of Sectional 5
31. Winner of Sectional 62 at Winner of Sectional 61
32. Winner of Sectional 64 at Winner of Sectional 63