BOURBON - The Big Blue Slam started Sectional play with a commanding sweep of LaCrosse Thursday evening in the Trench. The Trojans dismantled the Tigers 25-11, 25-12, 25-6 to advance to Saturday morning's Semi-Final game against Argos. Those making the most impact were Emma Hepler (28 assists), Abbey Viers (11 kills, 2 blocks), Molly McFarland (12 digs), and Lexia Hostrawser (3 aces). Triton's record now stands at 22-10. Saturday morning's session will feature Argos vs. Triton at 10:30 am EDT followed by West Central vs. Culver. The Sectional 50 Championship match will start at 7:00 pm. EDT. Tickets for each session are $6 and can ONLY be purchased at the gate each day.  Masks are REQUIRED during all sessions of the Volleyball Sectional.
Sectional 50 Qtr-Final

 

AWAY

 

 

HOME

LACROSSE
VS
TRITON
0
 
3
1
11
 
25
2
12
 
25
3
6
 

25

 
Triton Stat Leaders:
Kills - Abbey Viers 11, Lexia Hostrawser 10
Assists - Emma Hepler 28
Digs - Molly McFarland 12, Hepler 7, Kinsey Atkins 7
Blocks - Abbey Viers 2, Hostrawser 2
Aces - Hostrawser 3, Madeline Doll 3, Taren Yates 3, Addyson Viers 3
Class 1A at Triton
Triton 3, LaCrosse 0
Saturday semis: Argos v. Triton; West Central v. Culver Community
Class 1A at Lakewood Park
Bethany Christian 3, Fremont 0
Lakewood Park 3, Hamilton 0
Saturday semis: Bethany Christian v. Fort Wayne Blackhawk; Lakewood Park v. Elkhart Christian
Class 1A at Pioneer
Pioneer 3, Southwood 1
Caston 3, North Miami 0
Saturday semis: Pioneer v. Lakeland Christian; Caston v. Northfield
Class 1A at Morgan Township
Kouts 3, Hammond Academy of Science & Tech 0
Saturday semis: 21st Century Charter v. Kouts; Morgan Township v. Marquette Catholic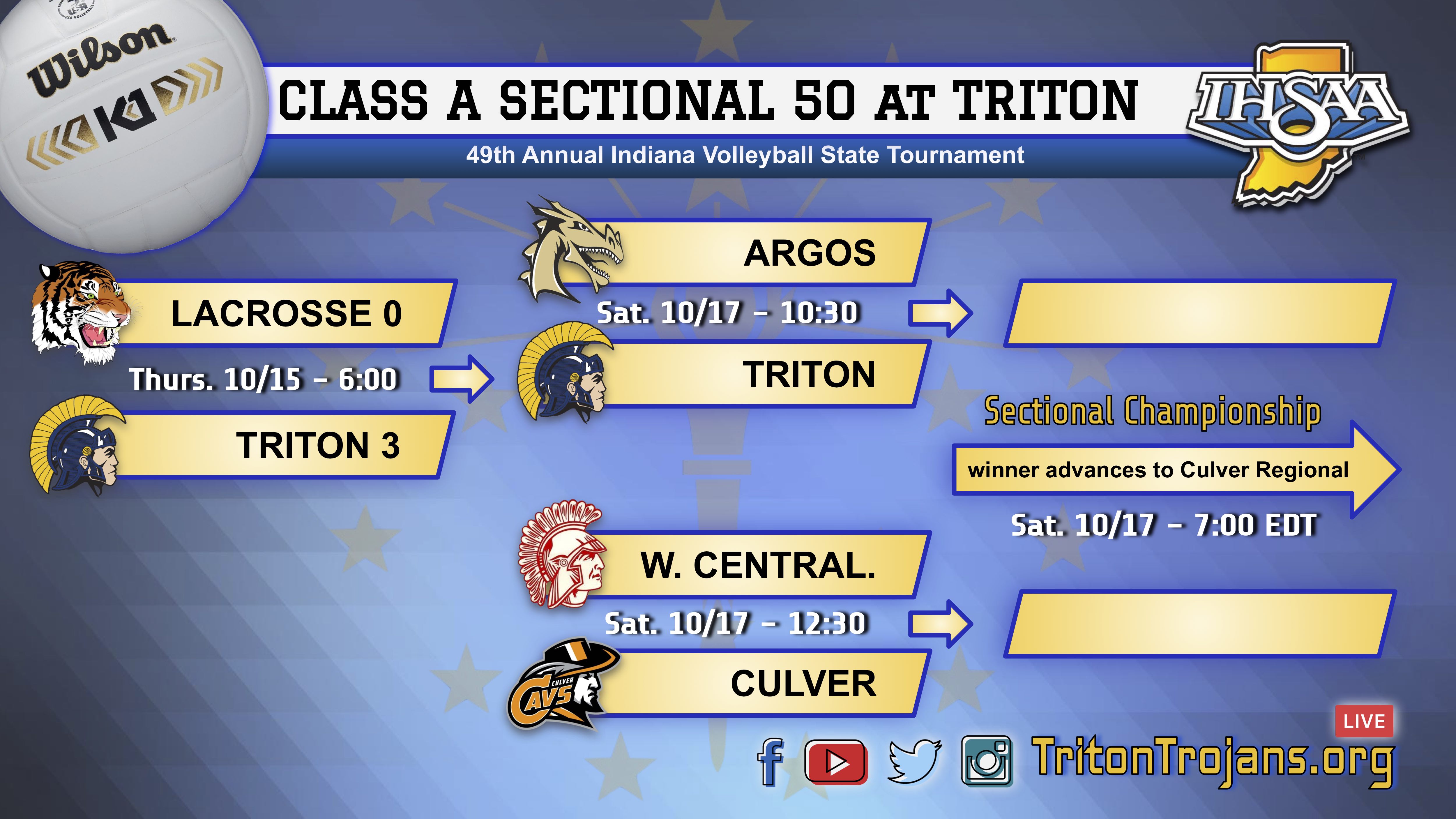 Restrictions
A. Balloons, banners and/or posters, shakers on sticks, etc. are not permitted. 
B. Cowbells and other such noise devices are not permitted. 
C. No live animal mascots are permitted. 
D. "Line-up" lanes of fans shall not be permitted on the playing floor at any time. 
E. Carry-in radios, cassette and tape decks, etc., are not permitted in the gymnasium. 
F. No solicitations shall be permitted, including donations, contributions, and aggressive vending of school spirit items. 
It shall be the responsibility of each high school principal to see that the above restrictions are enforced.

Regional Date: Oct. 24 at Culver Community
Admission: $8 per session.
Home Team: The second-named team in each pairing is the designated home team.

M1: Washington Township winner vs. Triton winner
M2: Lakewood Park Christian winner vs. Pioneer winner.
Championship: M1 winner vs. M2 winner.

Semi-States Date: Saturday, Oct. 31, 2020.
Admission: $10 per person.
Home Team: The winner of the odd-numbered regionals will be the designated home team.

North
1. Huntington North | 4 pm ET / 3 pm CT
2. Frankfort | 1 pm ET / 12 pm CT

South
3. Columbus East | 4 pm ET / 3 pm CT
4. Jasper | 1 pm ET / 12 CT

State Finals Date: Saturday, Nov. 7, 2020.
Site: Worthen Arena, Ball State University, 1699 W. Bethel Avenue, Muncie.
Time: Please note, each match will not begin any earlier than the times listed below.
Admission: $12 per person.
Home Team: The winner of the northern semi-state will be the designated home team in each match.
Television: Fox Sports Indiana. Webstream: For viewers outside of the Fox Sports Indiana coverage area, a live stream will be available at IHSAAtv.org. For those within the FSI coverage area, the stream will be available only on a delayed basis.

Class A State Championship | 10:30 am ET
Class 2A State Championship | 1 pm ET
Class 3A State Championship | 5 pm ET
Class 4A State Championship | 8 pm ET