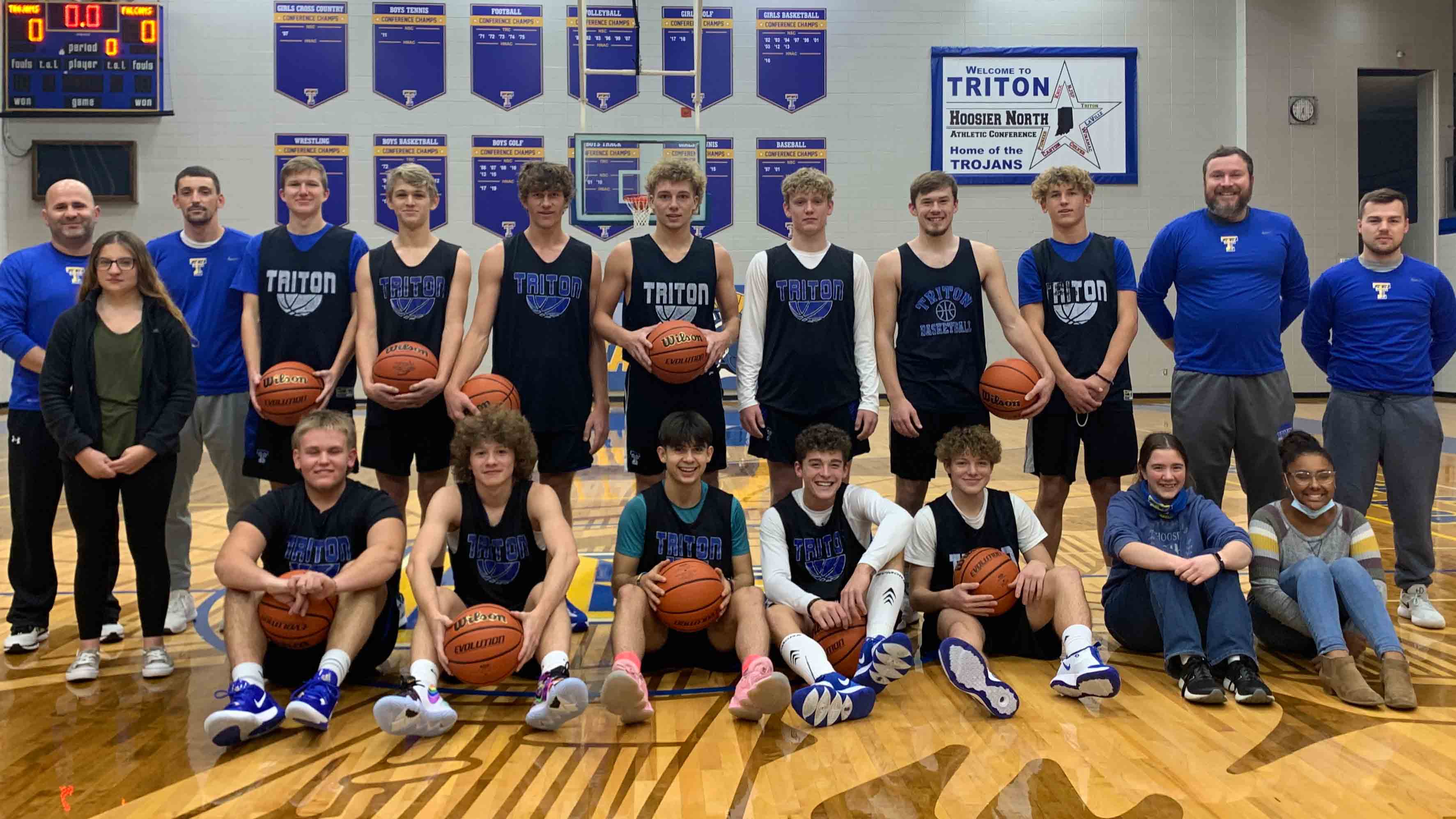 By: Andy O'Hara - BOURBON - Winter is just around the corner which means it's Basketball Time in Indiana. Growing up in this state the excitement of high school basketball is always a welcoming experience. With a tough year that we all have experienced, there is some good that helps dull the bad. As the high school basketball season abruptly ended after Sectionals, for Head Coach Jason Groves entering in his 16th season as Triton's head coach, uncertain times are ahead.

As we saw with fall sports, a teams' season can be de-railed at any given moment. This makes it extremely difficult for the players and coaches, to be able to be at school or even on the court. "With COVID, obviously, the health and safety of our players come first.  We just have to control what we can control, not worry about what we can't control, be flexible, and be grateful when we do get the opportunity to play," Coach Groves explained. As the team has seen several players quarantined, making it difficult for the team to practice altogether. "It definitely will be a team effort to navigate through this season with all its uncertainty.  Our players have responded well to all of this uncertainty so far," Coach Groves continues, "They are controlling what they can control: staying home when they're sick, wearing masks, and being responsible when they're not at school or practice." "They just want to play basketball," Coach said of the team. For me as a broadcaster and a fan of this group we want them to be able to play and see their hard work show on the court.

Moving away from the elephant in the room, let's get down to business. Triton really hit their stride in key moments last year navigating their way to a second straight Sectional Championship appearance. After that game, the Trojans graduated three key seniors in Tyler Heckaman, Quentin Amsden, and Jared Bules. Groves said on the departing seniors, "We lost three very valuable seniors from last season (Tyler, Quentin, and Jared).  They each brought different, and important, skills to our team.  The one great thing is they brought a passion and effort to play the game that will carry over to this season." While
they no longer are suiting up as Trojans on the court their presence will be known. "Our kids are hungry to be successful; they know what it takes to be successful, and now it's just a matter of doing it consistently day in and day out." He said, and goes on to say, "When that success comes, the seniors we've lost played a part in that success."

For the Trojans with that hard work, they are going to be "different" this season. Facing challenges of being undersized will mean things will need to be "different", to create on both sides of the ball. Coach Groves "Being undersized means that we will have to play a little differently this year. Defensively, we want to pressure a bit more and use our quickness to fly to the basketball, which in turn can create some opportunities for us on the offensive end. Being undersized means that your physical toughness and mental toughness have to be that much better; our kids know that; we just need to keep improving in that area each practice and each game." With the returning players, this is a group fully capable, and talented to be able to achieve this. The Trojans defensively allowed 42 points per game, forcing 15.5 turnovers per game, and averaging 8.1 steals per game.

Offensively the team will look to continue to produce and play to their strengths. Coach Groves added, "Offensively, it is the same. We want to use our quickness to play fast, but still, play fundamentally and as a team as always. Because we don't have a big body inside getting easy baskets, we will really have to play together as a team and find other ways to get to the FT line and score inside other than the traditional post up. Again, that physical and mental toughness aspect will be even greater this year on offenses too because of our lack of size." This group a season ago used their speed and quickness to put up 51 points per game, shooting 44.7% from the floor. The team as a whole got to the charity stripe 315 times and shot 70.5% from the line.
Triton is returning numerous players who saw some very valuable time on the floor last season. This coaching staff is excited about the potential of this group as a whole. Two main contributors on Varsity last season were Ashton Oviedo and Tyson Yates. "Ashton and Tyson are our top two returners and had good seasons last year, and we expect them to have an even better all-around season this year," Groves said of the two juniors. He goes on to say "However, we will need much more balance this year if we are going to be successful, and we think can be. We have some guys returning with some experience and guys who have put in some work."
A group consisting of seniors John Gardner, Keegan Westafer, and Hunter McIntyre, "have all already made great strides," he said of his seniors. Juniors on the team consisting of Cole McKinney, Bruce Johnson, and Connor Large, "all have unique skills that will help make us a better basketball team," he said of his juniors. There are some sophomores fighting for time as well, namely Cam Shively and Chandler Westafer. Lastly, adding in Freshman Cole Shively who the coach said: "will make his presence known both offensively and defensively."
"We are really excited about the quality of depth this year!" Groves said of his team, with a number of the underclassmen seeing some serious success on JV last year. Coach was very excited for the group stating, "That was our goal last year for them to experience that success and for them to carry that success over to this year. They all have great basketball IQ's and bring different skill sets that will help us this year: Bruce and Chandler can shoot the basketball, Cole is skilled in pretty much every area, and Connor and Cam bring valuable rebounding and a knack to be in the right spot and to make the right play. A couple may split time between JV and varsity, which can be a tough role for guys, but we're excited about all of them!"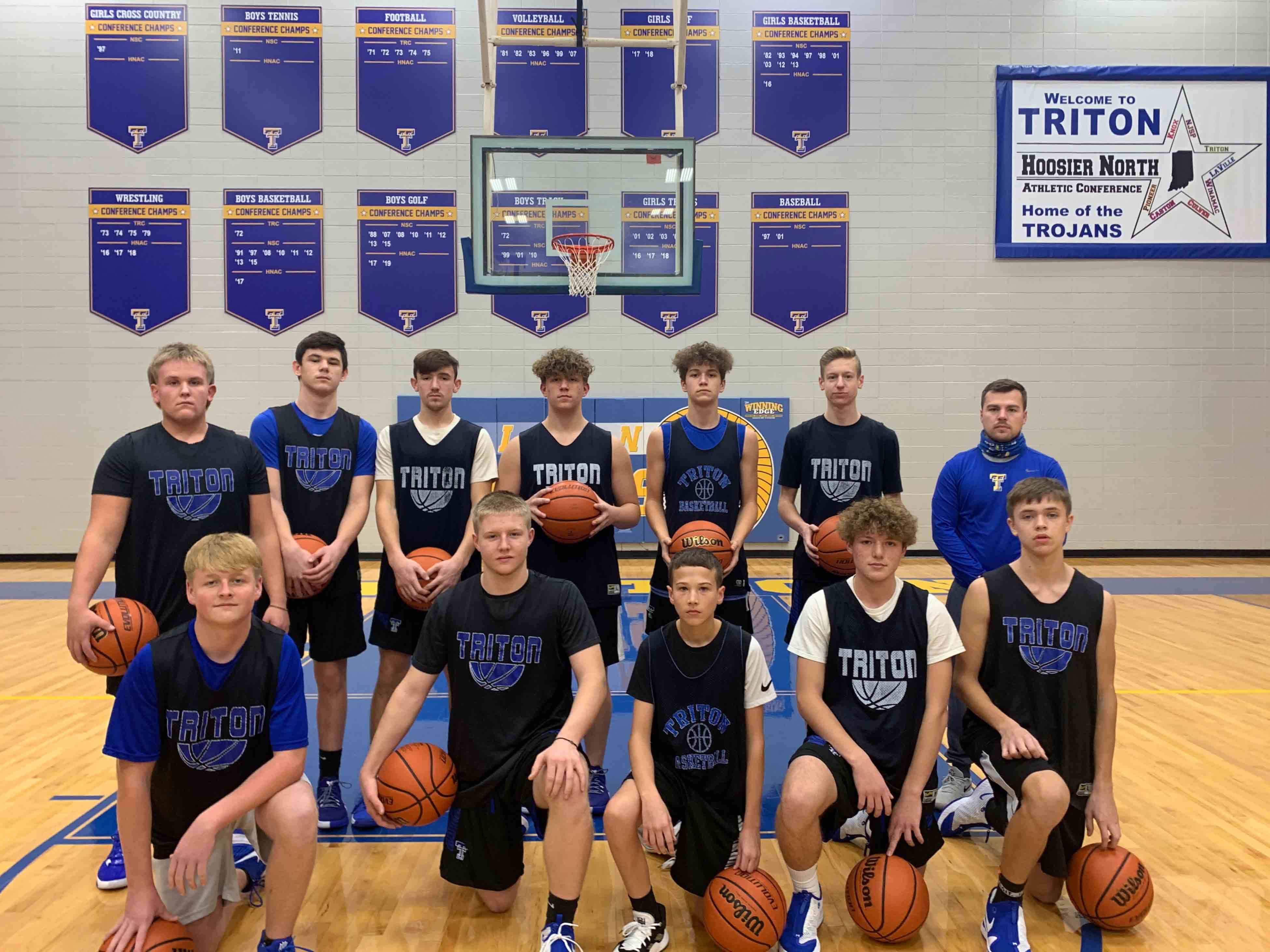 Which is a true testament to the work Coach Long put in with that group a season ago. As Coach Long loses a number of guys promoting to the varsity group, Groves adds, "we have guys eager to fill those voids." He goes on to preview our Junior Varsity group, "This will give returning guys like Chandler, Cameron, and Dominic the opportunity to be leaders and go-to guys, while the younger guys will fight for playing time and, hopefully, grow as players and young men while doing so. We really like the effort we have seen so far with these guys."
With the 2019-20 season being deemed a "roller coaster" by Coach Groves, it has paved a way for this group to take some serious strides in the right direction in the coming season. "We went through some adversity, but you can't grow as a person or as a player without adversity. We want to challenge our guys both physically and mentally in practice, in games, and in life so that they grow as young men and as players. Too often, people want the easy path. They don't want to be pushed or sometimes prodded. Our kids want to be "different" this year and learn from our past to create our now. We really expect them to respond in a way that will demonstrate that!" Groves said of the team.

This season has so much potential for these young men. They want to be "different" and they know what it takes to get there. With the uncertainty that surrounds the season for every high school team across the nation, we have some glimmer of light within the darkness. Sports is a game, but for these students, it provides hope, and a chance to display their hard work as a team. This is a true testament to these kids, coaches, staff, parents, and community here at Triton. With all the chaos, differences, and tough times this nation has seen in 2020. For this broadcaster hope is on the horizon, as we strive to set the standard of "The Trojan Way"!

The Trojans open up the 2020-21 season at NorthWood this evening.