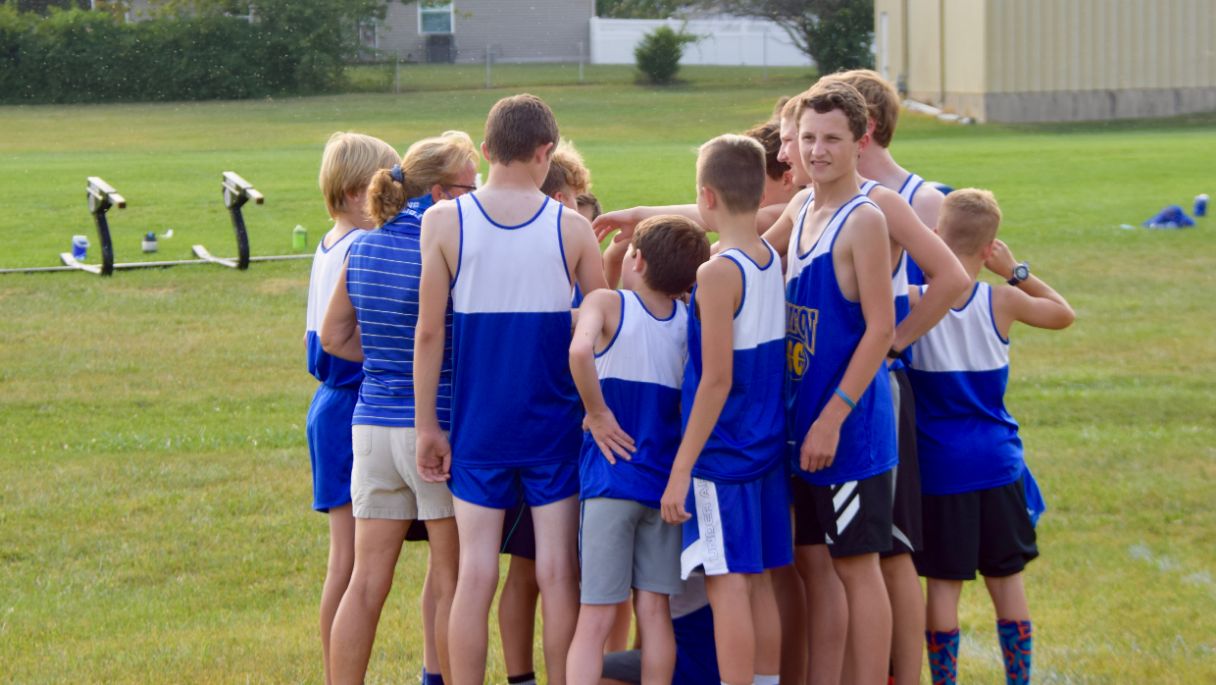 BOURBON - Triton's Junior High Cross Country teams hosted Bremen Wednesday evening on the grounds of Triton School Corporation. The Lions edged out the Trojans in both races.  Triton 8th grader Jaydon Heckaman finished 3rd and was the top finisher for Triton with a time of 13:33. Triton 7th grader Kayla Poff took 3rd in the girl's race with a time of 15:29. Next, both teams will run in the Tippecanoe Valley Invitational on Saturday 9/12.
Thanks to Mrs. Barnhart for these  Photos
Thanks to Mr. Barnhart for taking these drone videos of the meet. 
---

Junior High Boys - 29 runners
1. Bremen 24
2. Triton 33


1. Urbina - 12:14 - Bremen
2. Brady - 13:29 - Bremen
3. Jaydon Heckaman - 13:33 - Triton
4. Russel - 13:35 - Bremen
5. Reed - 13:46 - Bremen
6. Travis Barnhart - 13:53 - Triton
7. Caden Large - 14:05 - Triton
8. Connor Stetzel - 14:46 - Triton
9. Nifong - 14:51 - Triton
10. Andrew Gould - 15:22 - Triton
11. Sam McIntyre - 15:31 - Triton
12. Cameron Emenaker - 15:49 - Triton
13. Stine - 15:54 - Bremen
14. Riffle - 16:05 - Triton
15. Douglass - 16:13 - Bremen
16. Lincoln Williams - 16:32 - Triton
17. Quentin Davis - 16:33 - Triton
18. Stump - 17:05 - Bremen
19. Cayden Bradley - 17:05 - Triton
20. Monesmith - 17:24 - Bremen
21. Faulkner - 17:39 - Triton
22. Kertai - 18:34 - Bremen
23. Miller - 19:07 - Bremen
24. King - 20:04 - Bremen
25. Heckaman - 20:24 - Triton
26. Nettrouer - 20:43 - Bremen
27. Marmoleios - 22:13 - Bremen
28. Stiles - 23:31 - Bremen
29. Hunter Lisek - 23:59 - Triton
---
Junior High Girls - 14 runners
1. Bremen 24
2. Triton 31

1. Kincaid - 13:30 - Bremen
2. Avery - 15:23 - Bremen
3. Kayla Poff  - 15:29 - Triton
4. Byrd - 15:58 - Bremen
5. Rilee Bemish - 16:05 - Triton
6. Rory Heckaman - 16:11 - Triton
7. Rigney - 16:35 - Bremen
8. Gracie Riffle - 16:48 - Triton
9. Emma Cook - 17:59 - Triton
10. Reed - 20:42 - Bremen
11. Wagner - 21:33 - Bremen
12. Kenadee Howard - 22:37 - Triton
13. Ashlie McAndrews - 23:40 - Triton
14. Newman - 24:35 - Bremen