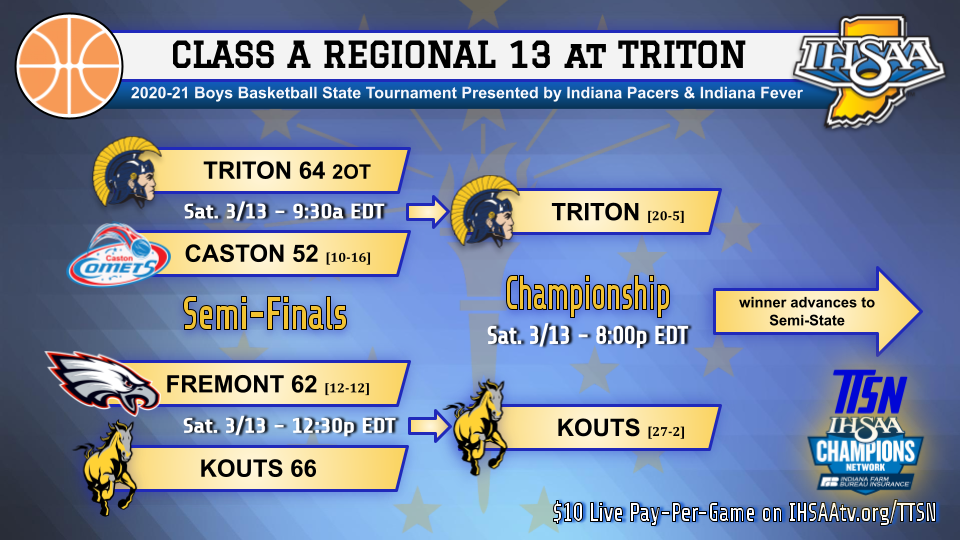 General Admission
Triton High School is proud to serve as the host for the IHSAA's Class 1A Regional 13 for Boys Basketball.  Triton High School has been approved by the county health department to allow a maximum of 25% capacity (800 people) per game.  Per IHSAA guidelines, we will be required to clear the gym of all spectators immediately following game 1 and 2 to allow for cleaning.  Spectators will be required to be out of the gym within 10 minutes.  Masks are required while attending these events.
Game 1: Triton v. Caston tip-off 9:30 am EDT, doors open at 9:00
Game 2: Fremont v. Kouts tip-off 12:30 pm EDT, doors open at 12:00
Championship: 8:00 pm EDT tip-off, doors open at 7:30
Triton fans, buy your tickets here --> Box Office for Triton Fans
Kouts' AD will provide a box office link to Kouts' parents and fans.
Tickets for the Regional games are $8.00 each.

A different ticket is required for each of the three games.

All tickets will be sold digitally. No tickets will be sold at the door.

You will be emailed a PDF with your tickets which can be printed and scanned at the door, or you can present them on your phone to be scanned.

If there are any available tickets for game 2 between Kouts and Fremont we will let you know and you would be able to purchase those.

You would still need to leave following game 1 and would have to re-enter with your new ticket for game 2.

Masks are required and we ask that you follow proper social distancing guidelines by spreading out and sitting in family pods.

If the Trojans win, we will announce the general admission ticket link via this email list and our Facebook page following game 1.