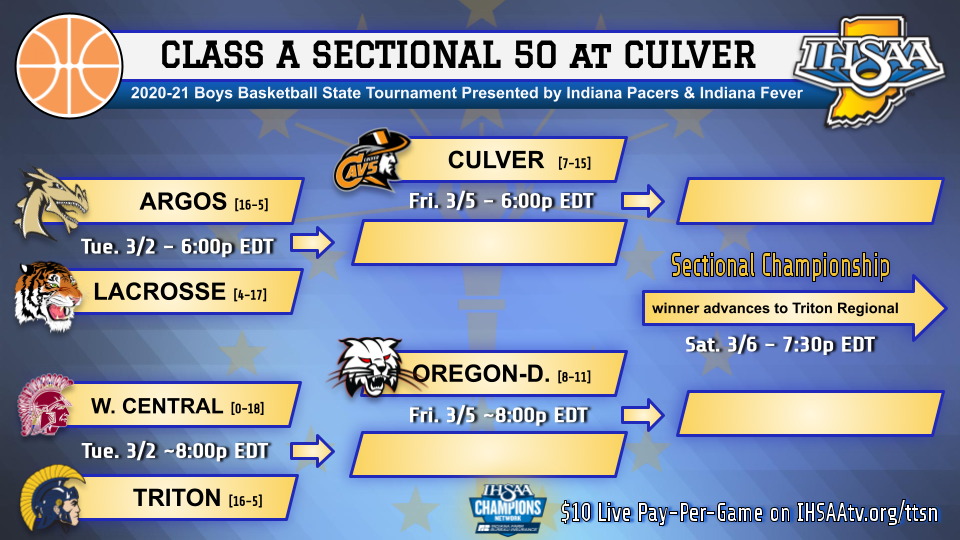 INDIANAPOLIS - The opening week's pairings were announced Sunday for the 111th Annual IHSAA Boys Basketball State Tournament presented by the Indiana Pacers and Indiana Fever.  Sectional 50 includes the six teams of Argos, Culver, LaCrosse, Oregon-Davis, Triton, and West Central.  All Sectional 50 games will be hosted by Culver Community.
1A Sectional 50 at Culver Community (6 teams)
G1. Argos v. LaCrosse 3/2 - 6:00
G2. West Central v. Triton 3/2 - 8:00
G3. Culver v. G1 winner 3/5 - 6:00
G4. Oregon-Davis v. G2 winner 3/5 - 8:00
Championship: Winner of G3 vs. Winner of G4. Sat. 3/6 - 7:30
In-Person Tickets
COVID Protocols:  Facemasks are required.  Social distancing guidelines should be followed and you should spread yourselves out in the gym.  We will have an entire half of the gym (top and bottom) so there should be plenty of room to spread out.  Please help us out by sitting in family pods and keeping distance between pods.  
Admission:  Culver will be allowing 25% capacity (825 fans) for each game.  No full tournament tickets will be sold, so you will have to purchase a new ticket for each game.  Tickets will be $6 each and will ONLY be sold at the door. 

 

They will not be selling any pre-sale so it will be first come first served.
Important Information:  The IHSAA is requiring that all fans depart immediately following each game and new tickets be sold for each game.  Let me do my best to explain how this will impact Triton fans each night.
Tuesday: Triton plays West Central in the second game.  Immediately following game 1, all fans will be asked to depart the gym.  Because we play the second game, our fans will not be admitted into the gym until about 7:45.  You will have to be there to purchase your ticket at Culver prior to the game.  It seems to me like this could be a mad rush to get people's tickets sold and get them into the gym prior to the start of the game, but that's how they have chosen to do it.  You'll need to line up and be prepared to purchase your ticket once they start allowing it.  If you can have exact change that will certainly help their ticket takers and will keep things moving as quickly as possible.
Friday:  A Triton win on Tuesday will put Triton in the second game at 8:00 on Friday. Follow the same procedures as Tuesday.  
Saturday:  Doors will open at 6:30 for the championship game at 7:30.  Tickets will be sold at the door and the first 825 people will be admitted. 
Pay-Per-View Tickets
TTSN has joined forces with the IHSAA Champions Network to bring you coverage of the 2021 Boys Basketball State Tournaments.  In order to watch state tournament games for basketball, the IHSAA is charging viewers $10 per game (plus a service fee) to access the PPV live stream and archive.  You can purchase access to each game at www.ihsaatv.org/ttsn
Sectionals that feed the Triton Regional: 49, 50, 51, 52
1A Sectional 49 at Kouts (6 teams)
G1. Covenant Christian (DeMotte) v. Washington Township
G2. Kouts v. Hammond Academy S&T
G3. 21st Century-Gary v. G1 winner 
G4. Morgan Township v. G2 winner 
Championship: Winner of G3 vs. Winner of G4.
1A Sectional 51 at Bethany Christian  (5 teams)
G1. Hamilton v. Lakewood Park Christian
G2. Bethany Christian v. Elkhart Christian
G3.  Fremont v. G1 winner
Championship: Winner of G3 vs. Winner of G4.
1A Sectional 52 at Tri-County (6 teams)
G1. Caston v. South Newton
G2. Pioneer v. Frontier
G3. Tri-County v. G1 winner 
G4. North White v. G2 winner
Championship: Winner of G3 vs. Winner of G4.
Triton Regional
50. Culver winner vs 52. Tri-County winner
51. Bethany Christian winner vs 49. Kouts winner