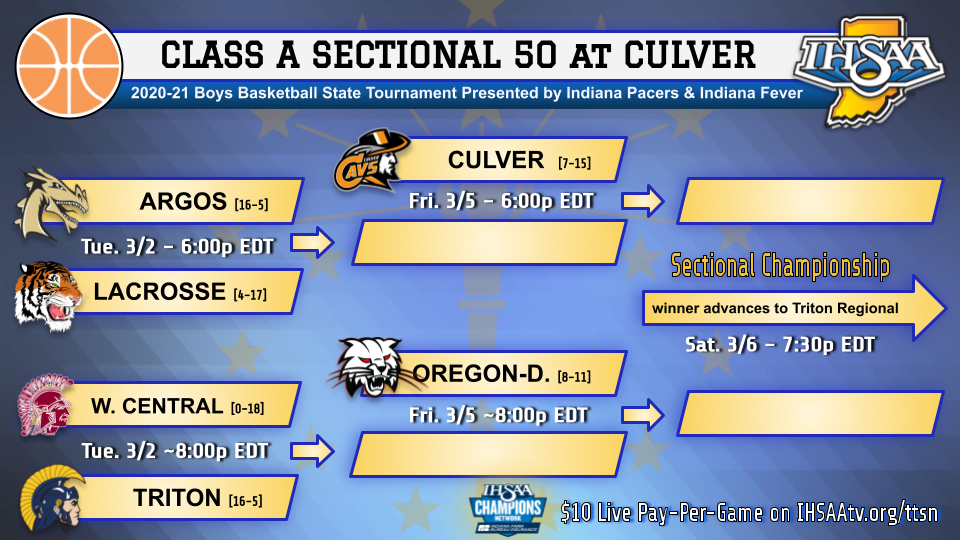 CULVER - There's good news for fans wishing to watch the Sectional games for boys basketball at home.  Anyone can watch from the comfort and safety of their home by purchasing tickets for the live streams.
TTSN has joined forces with the IHSAA Champions Network to bring you coverage of the 2021 Boys Basketball State Tournament.  In order to watch state tournament games for basketball, the IHSAA is charging viewers $10 per game (plus a service fee) to access the PPV live stream and archive.  You can purchase access to each game with the access buttons at the bottom of this article.  Live streams will begin 20 minutes prior to the scheduled tip-offs so fans have ample time to purchase their tickets and get their devices ready to watch.
1A Sectional at Culver
G1: Argos v. LaCrosse. tip-off 6:00 pm EDT, 5:00 pm CDT LINK
G2: West Central v. Triton. approx. tip-off 8:00 pm EDT, 7:00 pm CDT LINK
G3: Culver v. Argos/LaCrosse winner. tip-off 6:00 pm EDT, 5:00 pm CDT LINK
G4: Oregon-Davis v. West Central/Triton winner. tip-off 8:00 pm EDT, 7:00 pm CDT LINK
Championship: Winner of G3 v. Winner of G4. tip-off 7:30 pm EDT, 6:30 pm CDT LINK

How to purchase Pay-Per-View tickets
1. Tap "Purchase Access" on the game you wish to watch below.
2. Log-in to your IHSAAtv.org account or create an account.
3. Follow the on-screen prompts to complete your purchase.
Supported Devices
Computer & mobile device browsers
iOS & Apple TV apps
Android & Android TV apps
Qtr-final #1 Purchase Portal
Qtr-final #2 Purchase Portal
Semi-final #1 Purchase Portal
Semi-final #2 Purchase Portal
Championship Purchase Portal
The IHSAA answers 'Why no all-access pass for Basketball Pay Per View?'
Several fans has asked for an all access pass for the sectional and regional rounds of the tournament, similar to what we do for the semi-state. Currently, you'll have to buy a game by game access pass. Here's why...The Champions network does not hire or underwrite the many, many webcasters who are producing these games. They are all independent entities. Pay-per-view money underwrites the entity. So, splitting the revenue between the 150 webcasters would be unfair to half and a benefit to the other half. These webcasters have opted to work 'at risk' for their income. Webcasting isn't free. The average expenditure to do a game is about $500 when considering the funded depreciation of their equipment. Commercial entities pay their cameraman, producer, direct and talent. This is also true during the regional. Those willing to risk absorbing these costs are hoping that their production returns enough revenue to cover them. At the Semi-state level, we hire them. We pay them independent of the results of the pay per view funding. We take the risk. And, therefore, we can offer an all access pass, which we will do. And for those of you who say 'sell more advertising'. That's massively problematic. Normally, webcaster's advertising share is about 90% local with most coming from restaurants and retail establishments. All of which have suffered massively due to Covid. They won't be buying advertising. So the IHSAA decided to waive the $300 fee for every approved webcaster. This results in about a $1500 give back to each to assure they step forward and webcast games that you can't or won't attend. Why $10. Because the net back to the school needs to be at or about what a ticket would generate. Remember, the IHSAA is giving back $4-$6 plus the gate to the schools. The Commissioner has been totally transparent about pay per view.