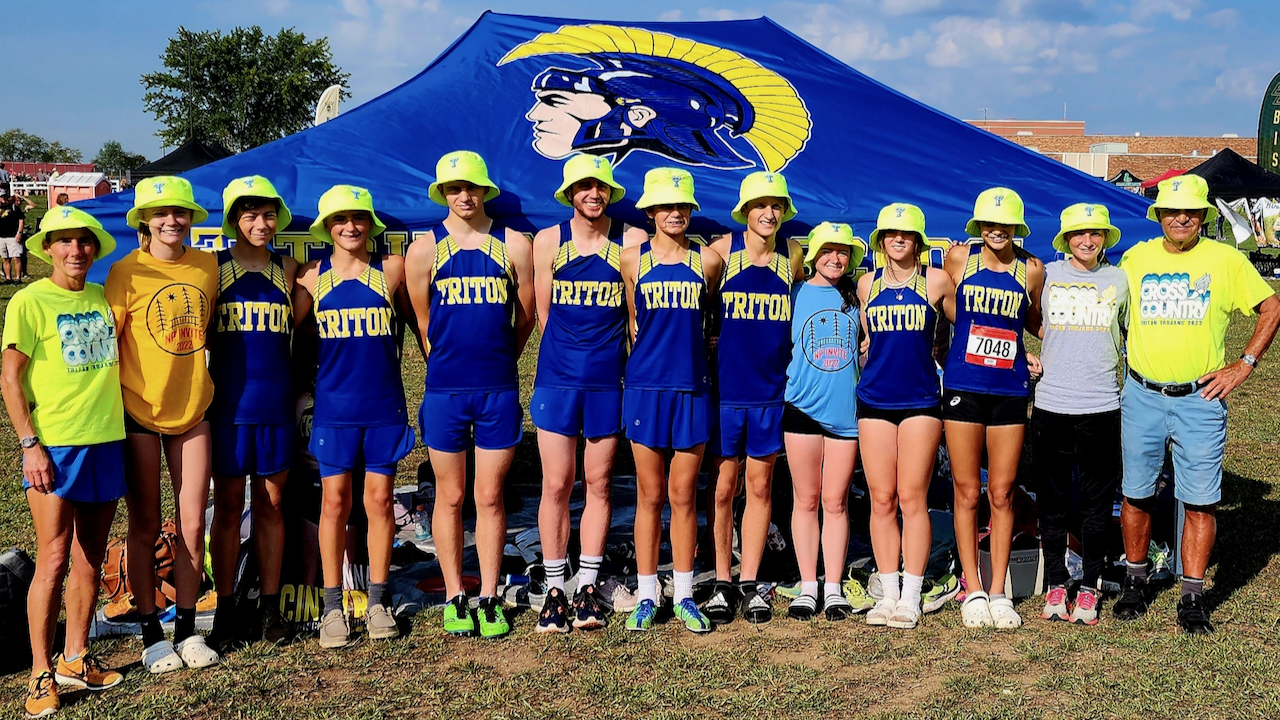 The varsity cross country teams at New Prairie
🏃‍♂️ CROSS COUNTRY 🏃‍♀️
9/17 - Varsity at New Prairie Invite - complete results
NEW CARLISLE - by Lisa Bemish - Indiana's largest athletic event took place Saturday at the New Prairie Cross Country Invitational. 109 teams from Indiana, Michigan, and Illinois came together to run on what was a perfect weather day in New Carlisle. Excitement was in the air. Most of the Triton Varsity members LOVE the New Prairie course and couldn't wait to hit the ground running, literally.
The freshmen were equally excited to try this course with an edge of fear knowing they were finally going to get their shot at Snake Canyon and Agony Hill. The lone Senior, Anna McIntyre, was trying to soak it all in. She said she was so excited to be there and so sad it was her last time also.
The Triton Varsity teams ran against other schools in the Class A competition. The girl's Varsity team placed 13th out of 26 teams with a total of 219 girl runners. The boy's Varsity team placed 27th out of 33 teams with a total of 255 boy runners. Don't let those team placing fool you though. Out of our 7 Varsity boys, 3 set PR's (Hunter, Connor, & Sam), 3 ran their season-best time (Jaydon, Travis, & Andrew), and one only missed a new season best by 7 seconds.
Andrew Gould took over 3 minutes off his time from last season at this invite. Hunter Schaetzle took over 2 minutes off his time from last year. And Jaydon Heckaman was over a minute faster this year compared to last. Equally, the Varsity girls all ran really well today also. Out of the 6 members, 2 set season-best records (Jocelynn and Rory) and 2 set new personal records of all time (Anna and Maddy).
The 2 freshman girls ran great but one had the course get the best of her. The story goes, she got a rock in her shoe, in an attempt to kick off the shoe, flipped it up and caught it mid-air, and kept running carrying one shoe in hand.
It was a memorable day. Triton Senior, Anna McIntyre, not only set a PR today but was OVER 4 minutes faster this year than last year at New Prairie. So not only did she take it all in, she went out with a BANG!!!  Nice job Anna!!!
The HIGHLIGHT of the DAY though was the amazing run by Jocelynn Faulkner.  She not only ran a season-best time but placed 7th overall, in what was a PHOTO Finish. She gave it her all at the finish line and almost took down a long-time rival from Pioneer. That being said, she was still the lone medal winner for Triton!! A huge CONGRATULATIONS goes out to her!!!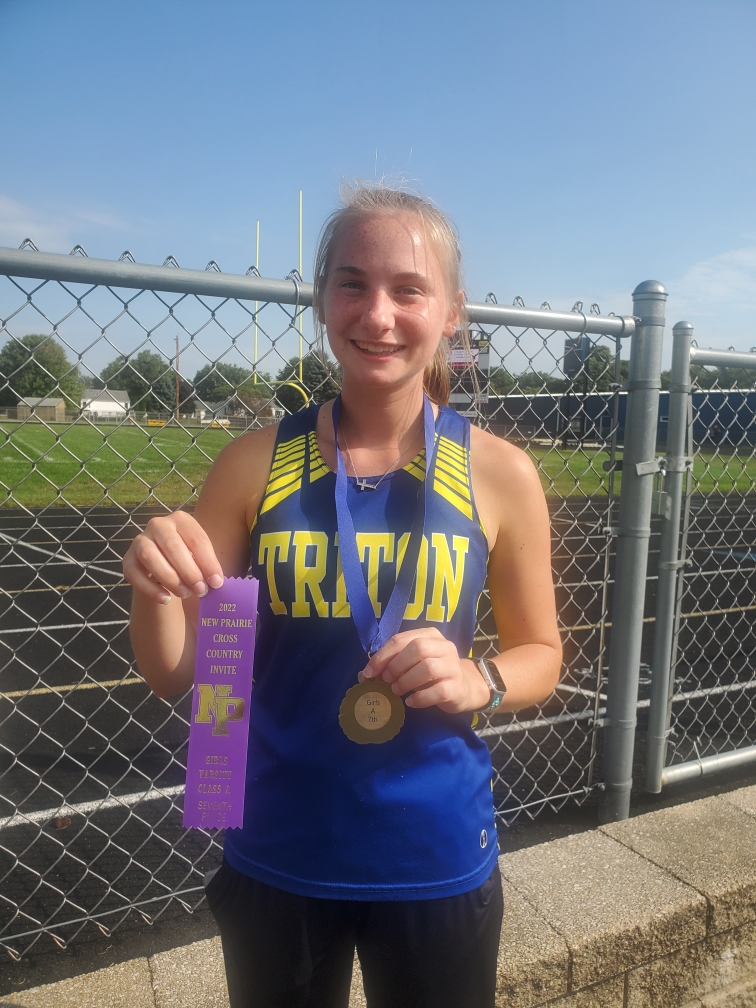 Jocelynn Faulkner with her 7th place medal
Varsity Girls
1. Kouts 37
2. Faith Christian 100
3. Winamac 106
4. Westview 135
5. Carroll (Flora) 204
6. Beecher (IL) 224
7. Hebron 242
8. Bridgman 261
9. Buchanan HS306
10. Fremont321
11. Clinton Prairie 339
12. Lewis Cass 345
13. Triton 384
14. North Judson 390
15. Frontier 394
16. Wheeler 401
17. LaCrosse 453
18. Caston 455
19. Victory Christian 465
20. North White 486
21. Attica 489
22. Tri-County 506
23. Pioneer 517
24. West Central 645
25. Marquette Catholic 690
26. LaLumiere 696
*11 more schools with less than 5 for a team

Varsity Girls times out of 219 runners:
7. Jocelynn Faulkner 20:40.8 *SB
91. Rory Heckaman 24:47.7 *SB
101. Kayla Poff 25:09.6
113. Rilee Bemish 25:17.7
130. Maddy Czarnowski 25:38.9 *PR
133. Anna McIntyre 25:52.4 *PR

Varsity Boys
1. Clinton Prairie 68
2. Westview 95
3. Morgan Township 128
4. Hebron 196
5. Kouts 199
6. Buchanan HS 205
7. Lafayette Central Catholic 259
8. Bridgman 279
9. Caston 286
10. West Central 298
11. Carroll (Flora) 351
12. South Central 351
13. Trinity School at Greenlawn 374
14. Winamac 409
15. Rossville 414
16. Washington Twp 457
17. Tri-County 458
18. Frontier 477
19. Fremont 567
20. Victory Christian 587
21. Delphi 599
22. Wheeler 628
23. Attica 632
24. Beecher (IL) 642
25. North Newton 656
26. North Judson 667
27. Triton 682
28. SB Career Academy 700
29. Fountain Central 702
30. Faith Christian 731
31. LaLumiere 746
32. New Buffalo 753
33. Whiting 864
*10 more schools with less than 5 for a team

Varsity Boys times out of 255 runners:
121. Connor Olesen 20:45.7 *PR
144. Hunter Schaetzle 21:24.8 *PR
149. Jaydon Heckaman 21:33.1 *SB
175. Travis Barnhart 22:09.1 *SB
178. Cam Emenacker 22:13.5
183. Andrew Gould 22:21.5 *SB
196. Sam McIntyre 22:49.5 *PR
 FOOTBALL 
9/17 - JV at LaVille 10 Triton 6
LAKEVILLE - by Jeremy May - Triton lost a close hard-fought battle with LaVille on Saturday. The Trojans took the early lead with a rushing TD from Vincent Prater, the PAT was blocked. LaVille scored a field goal on the last play before the half. Trojans held the lead into the fourth quarter until LaVille scored a passing touchdown on fourth down. The extra point was good. Triton drove down the field on two separate occasions late but could not find the end zone. Final LaVille 10 Triton 6.
Triton 6 0 0 0 - 6
LaVille 0 3 0 7 - 10

9/20 - Junior High at Culver Comm. 21 Triton 19
CULVER - by Joe Wood - Triton played in an epic showdown with Culver on Tuesday evening! The Trojans scored on their first possession with a 55-yard drive and a touchdown from Ryder Gayheart. Culver answered back with a touchdown in the second quarter to tie the game up at 6-6. A defensive stance would go on with both teams until halftime. In the second half, the momentum leaned towards Culver with the Cavaliers going on a 15-0 run in the 3rd quarter. The Trojans still had some gas in the tank and fought back in the 4th quarter with a quarterback keeper from Brady Wood and a rushing PAT. That made the score 21-19 with 3:19 left in the game. Triton would successfully retrieve an on-side kick but fell short with the final being 21-19 Culver.
Triton 6 0 0 13 - 19
Culver 0 6 15 0 - 21
Significant Player Stats
Brady Wood: 203 total yards, 2 TD's, 1 PAT, 4 tackles
Ryder Gayhart: 53 total yards, 1 TD, 3 Tackles (1 for loss)
Preston Brookins: 2 tackles, (1 hit for a fumble)
Triton's Record 0-5, 0-4 HNAC
 VOLLEYBALL 
7/17 - Junior High Round Robin at Triton
7th Grade vs Caston: Triton won 25-12, 25-13 - VIDEO
7th Grade vs North Judson: Triton won 25-20, 25-23 - VIDEO
8th Grade vs Caston: Triton won 25-9, 25-18 - VIDEO
8th Grade vs North Judson: Triton lost 17-25, 9-25 - VIDEO
9/19 - Junior High vs. Oregon-Davis
7th Grade match: Triton won 25-14, 25-10 - VIDEO
8th Grade match: Triton won 25-8, 25-24 - VIDEO
Triton's Records: both teams 3-3
9/20 - Triton 6th Grade at LaVille
A match: LaVille won 25-22, 25-17 - VIDEO
B match: LaVille won 15-10 - VIDEO
Triton's Record 3-2
9/20 - Triton High School at Winamac (HNAC)
Varsity defeated Winamac 25-15, 25-7, 25-17
Triton Stat leaders:
Kills - Addyson Viers 13, Lena Doll 9, Macie Hensley 5
Assists - Hannah Snyder 12, Kinsey Atkins 9
Aces - Atkins 6
Digs - Doll 8, Atkins 7
Blocks - Ad Viers 6, Avery Viers 4, Morgan Feldman 3
Triton's Varsity Record:12-6 (4-0 in HNAC)

JV defeated Winamac 25-24, 25-12
Triton JV stat leaders:
Kills - Nadia Stetler 5, Bayle Gray 5
Assists - Macy Carson 9, Allie Westafer 7, Clara Doll 3
Aces - Westafer 1, Kenadee Howard 1, Sierra Hawley 1
Digs - Hawley 13, Kate Howell 4
Blocks - Stetler 1, Doll 1
Triton's JV record: 12-5 (4-0 HNAC)
Did you take pictures of these events? Share them with us at sports@triton.k12.in.us or text 574-646-0066