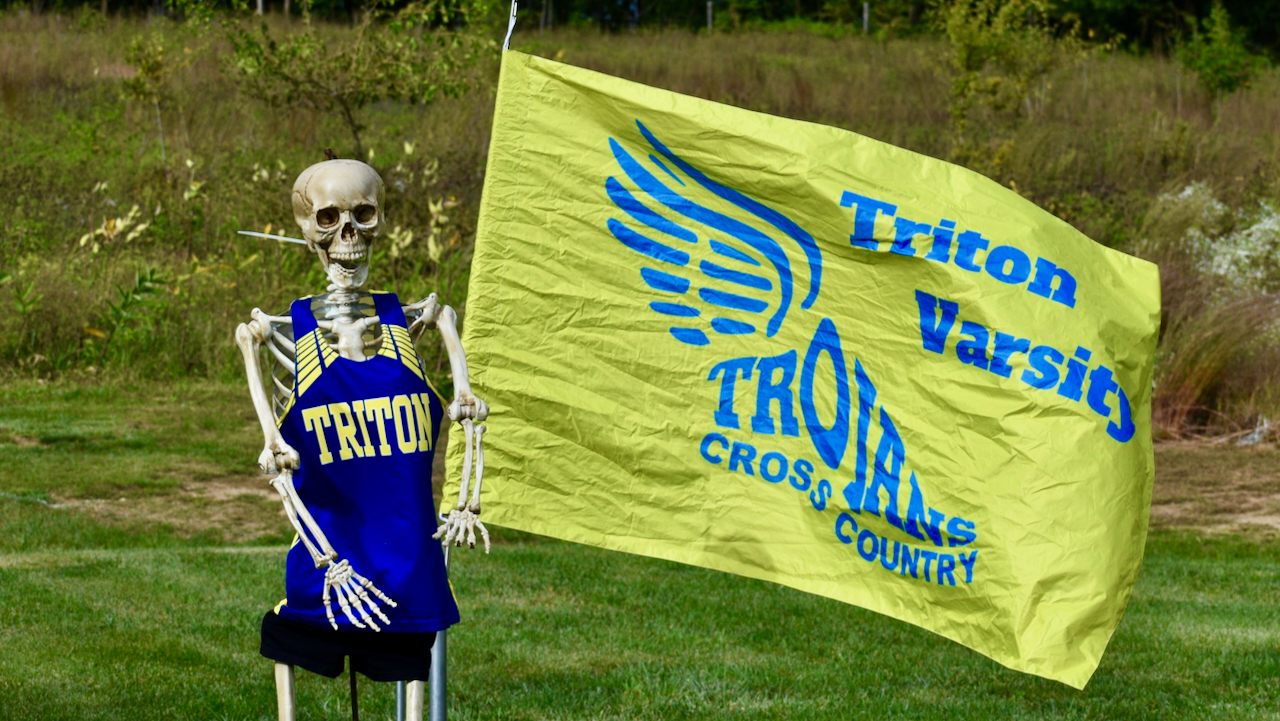 The scene at the finish line. Photos by Lisa Bemish
🏃‍♂️ CROSS COUNTRY 🏃‍♀️
9/22 - Varsity at Potawatomi Wildlife Park - complete results
TIPPECANOE - by Lisa Bemish - The unofficial Senior Night for Triton Cross Country was held at the last home meet of the season Thursday evening. Lone senior Anna McIntyre was honored by Coach Faulkner. It was another emotional run for Anna. Coach and her family came out earlier in the day to set up the course and posted signs to all the team members encouraging them along. Thanks to Faulkners, memorable moments were made along the way. Anna's sign hit her heart as it pushed her to yet another personal record. Anna took yet another minute and a half off her time. Coach Joe White said it was the cool winds of fall that propelled all the runners to new PR's at Potawatomi Park. Argos and LaVille did not have enough runners for a team. South Bend Career Academy had a boys team but no girl runners. Triton Boys pulled out a win over SBCA 25 to 30. Six out of the seven Trojans set records. The same goes for the Lady Trojans. Four out of six set new records for themselves!
Anna McIntyre and Coach Justina Faulkner
Triton Boys
out of 13 runners overall
4. Connor Olesen 20:45 (PR)
5. Hunter Schaetzle 21:17 (PR)
6. Jaydon Heckaman 21:31 (SB)
7. Travis Barnhart 21:32 (SB)
8. Cam Emenaker 21:58 (SB)
9. Andrew Gould 22:09 (SB)
12. Sam McIntyre 22:57
Triton Girls
out of 9 runners overall
1. Joceylnn Faulkner 21:00
4. Rilee Bemish 24:01 (PR)
5. Rory Heckaman 24:02 (SB)
6. Anna McIntyre 24:17 (PR)
8. Kayla Poff 24:38 (PR)
9. Maddy Czarnowski 25:50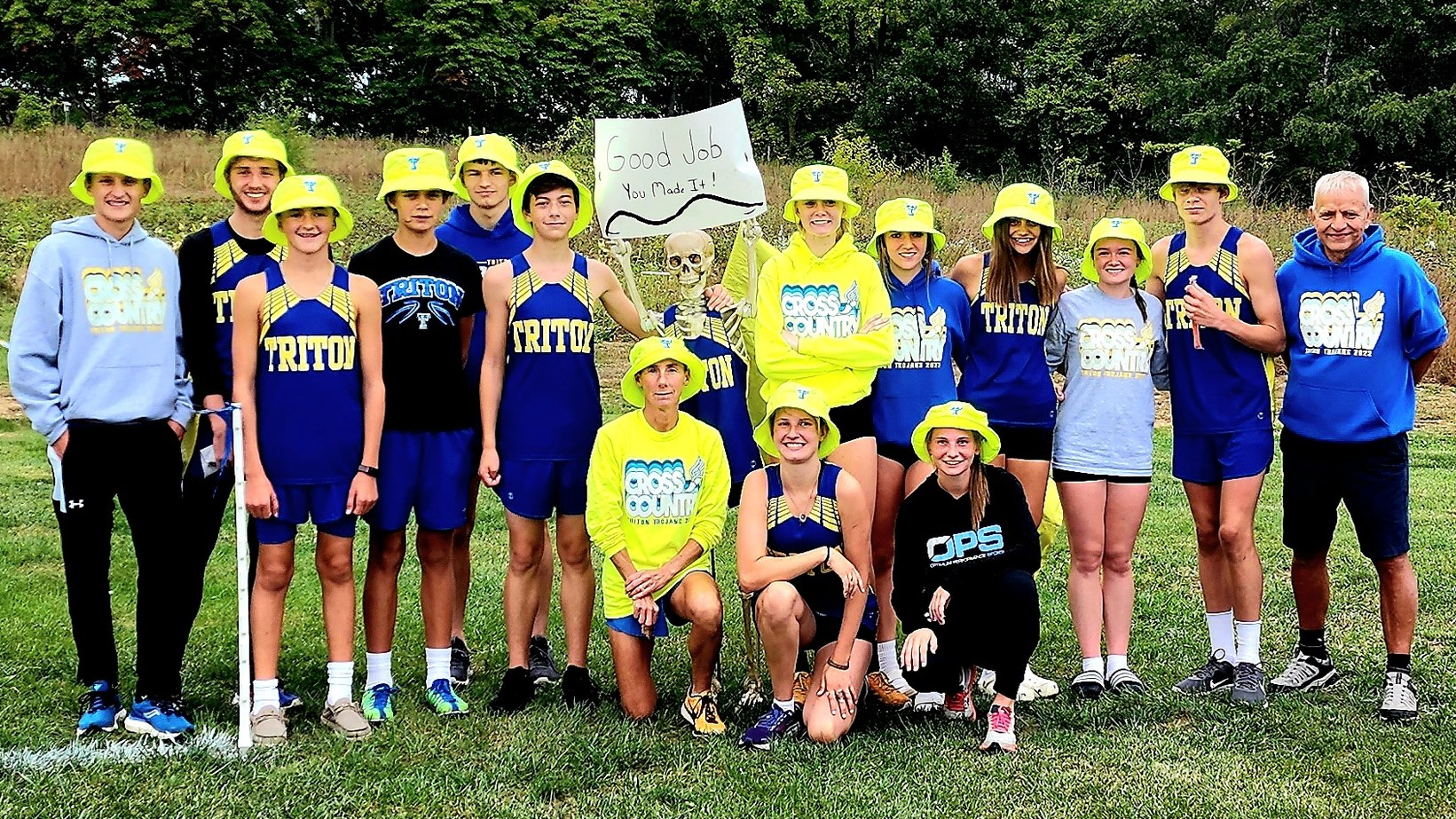 The teams standing with the "one that didn't make it."
BOYS TENNIS
9/21 - HNAC Tourney at Knox - SEMI-FINALS
The Triton Boys Tennis team traveled to Knox for night one of the HNAC Conference Tourney. Triton's #1 Caden Large and #2 Singles Damon Kuntz both beat their Knox opponents to play on night two in the championship match against North Judson. Isaiah Vaca played his Knox opponent to the three sets and eventually lost in a tiebreaker after playing 2 hours and 30 minutes. Triton's Double team consisting of Ethan Shively and Zak Greer took a loss against Knox's best overall all tennis players. Triton forfeited at the #2 Doubles spot.

Semi-Final with Knox
1S - Caden Large (T) def. Rocco Venice (K) 6-1, 6-0
2S - Damon Kuntz (T) def. Drew Simpson (K) 6-0, 6-0
3S - Nick Dillner (K) def. Isaiah Vaca (T) 4-6, 6-4, 8-6 Tiebreaker 8-6
1D - AJ Turner (K) & Brayden Branham (K) def. Ethan Shively (T) & Zak Greer (T) 6-1, 6-0
2D - (K) by forfeit.
9/22 - HNAC Tourney at Knox - FINALS
The Triton Boys Tennis team traveled back to Knox for the championship round of the HNAC Conference Tourney. Triton's #1 Caden Large played a hard-fought match against North Judson and #2 Singles Damon Kuntz fought the tough weather conditions against North Judson. North Judson ended up sweeping all 5 spots including 3 more against Knox. North Judson was also crowned HNAC Conference Champion for 2022.
Triton will compete in the first round of the Bremen Sectional at DeSantis courts at Sunnyside Park next Wednesday starting at 5 pm.

Championship Matches
1S - AJ Bau (NJ) def. Caden Large (T) 6-1, 6-2
2S - Caleb Ginder (NJ) def. Damon Kuntz (T) 6-0, 6-1
3S - Lukas Burkett (NJ def. Knox
1D - Wyatt Stowe and Damien Frasure (NJ) def. Knox
2D - Nathan Faldzinski and Ebert White (NJ def. Knox
VOLLEYBALL
9/22 - Junior High at Bremen - videos coming soon
Triton 7th Grade defeated Bremen 24-25, 25-24, 15-13
Triton 8th Grade defeated Bremen 25-11, 25-16
9/22 - Triton High School vs LaVille (HNAC)
BOURBON - Triton Varsity Volleyball defeated LaVille 25-17, 25-21, 22-25, 25-20.
Triton Varsity Stat Leaders:
Kills - Addyson Viers 19, Macie Hensley 18, Lena Doll 12
Assists - Hannah Snyder 22, Kinsey Atkins 19
Digs - Lena Doll 14, Kinsey Atkins 12, Addyson Viers 12, Hannah Snyder 8
Aces - Kinsey Atkins 3, Lena Doll 2, Hannah Snyder 2
Blocks - Addyson Viers 4, Avery Viers 3
Triton's Varsity record: 13-6 (5-0 HNAC)
Triton JV defeated LaVille 25-17, 25-18
Triton JV Stat Leaders:
Kills - Nadia Stetler 8, Kate Howell 2, Kenadee Howard 2
Assists - Clara Doll 5, Allie Westafer 4
Aces - Macy Carson 4, Kate Howell 3
Digs - Clara Doll 12, Sierra Hawley 12, Kate Howell 7
Triton's JV record: 13-5 (5-0 HNAC)
Did you take pictures of these events? Share them with us at sports@triton.k12.in.us or text 574-646-0066