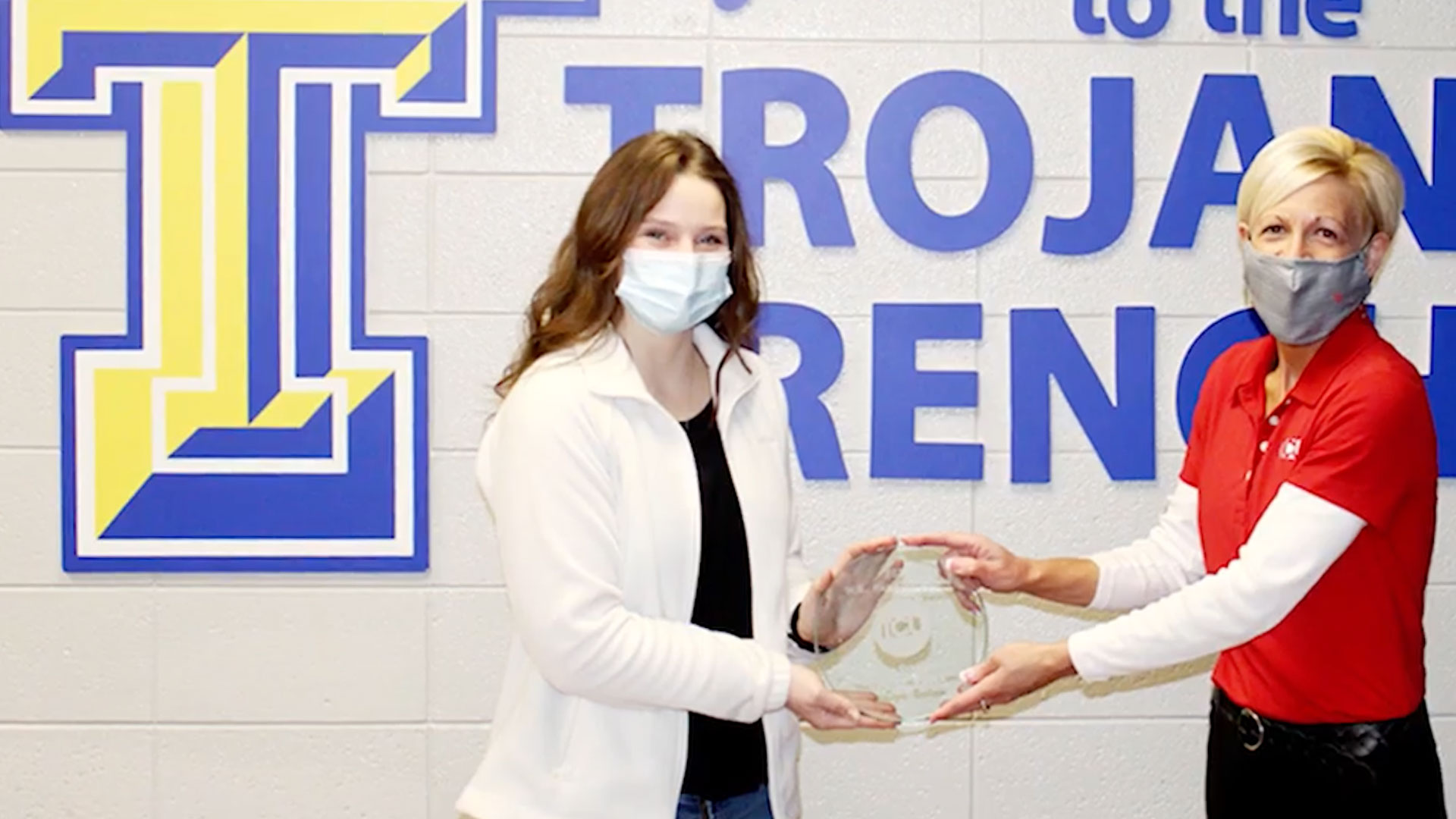 LAKEVILLE - Teachers Credit Union (TCU) awarded two student-athletes with the annual W.B. Hawkins Award for excellence in academics and athletics at the 56th annual TCU Bi-County Tournament this past Saturday. Established in 2004, the Hawkins Award annually recognizes two students for their work on the field and in the classroom, and for their ability to inspire those around them.
The W. B. Hawkins Award for Excellence in Academics and Athletics is presented to two students for their positive contribution to their community and to their school. This award was established to honor TCU's former president, W. B. Hawkins (1962-1987), who was dedicated to serving our communities and the Credit Union philosophy of "People Helping People." For nearly 90 years, we have operated under that same guiding principle.
Before the boys' championship game Saturday night, the 2021 recipients of the W.B. Hawkins Award were announced in a pre-recorded video due to COVID-19 attendance restrictions. A $1,000 scholarship went to the high schools of Hunter Smith (New Prairie) and Jaelyn Bules (Triton).  Bules becomes the third Triton student-athlete to receive the award. Lady Trojans Brooklyn Beatty received the honor in 2016 and Whytnie Miller in 2020.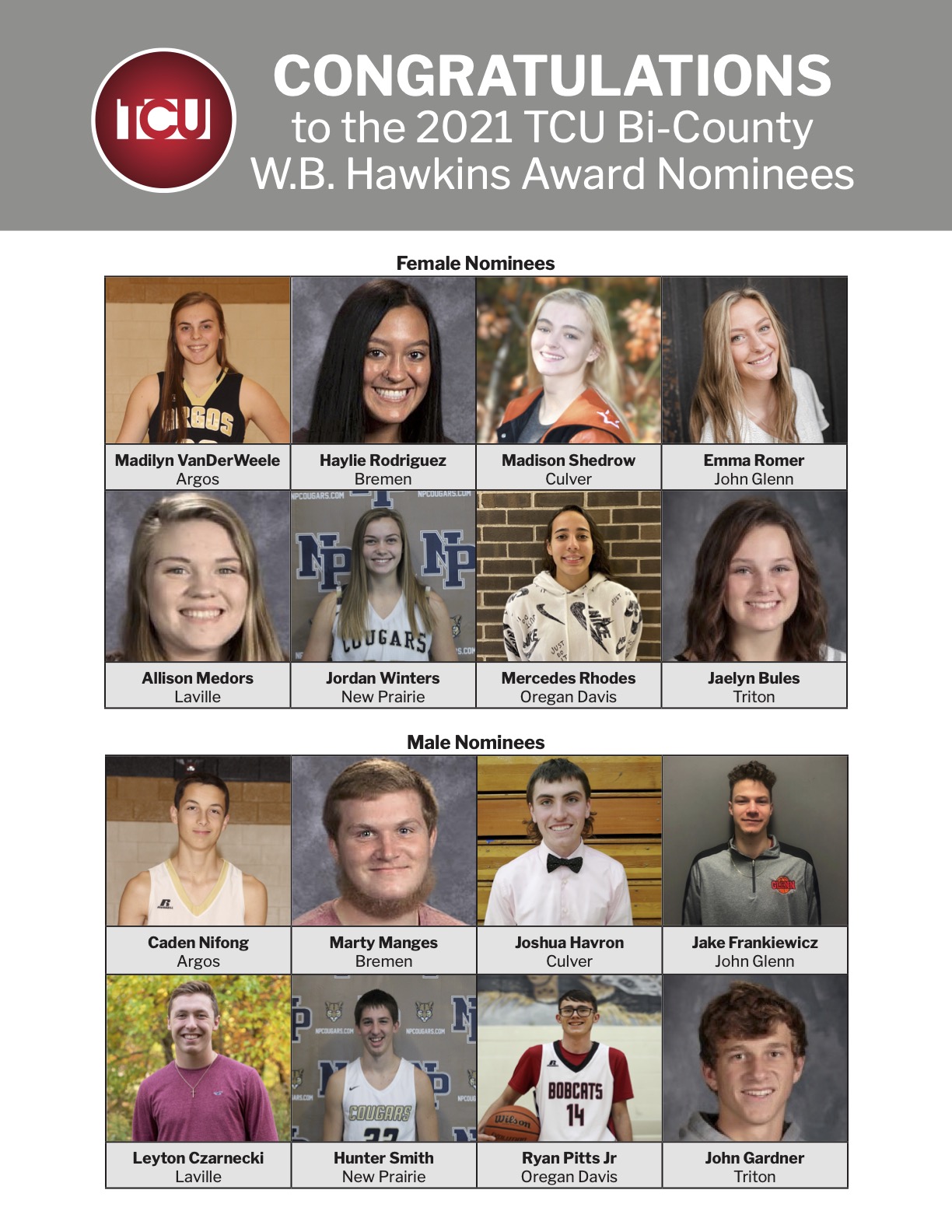 Past WB Hawkins Award Winners
Boys 2004 - Eric Reese, John Glenn
Girls 2004 - Adrianne Bollenbacher, Bremen
Boys 2005 - Chad Miller, Bremen
Girls 2005 - Lacy Dewitt, Argos
Boys 2006 - Zach Shafer, Argos
Girls 2006 - Karen Wassel, New Prairie
Boys 2007 - Justin R. Murphy, Culver Acad.
Girls 2007 - Kayla Alcorn, Argos
Boys 2008 - Eric Zeltwanger, Bremen
Girls 2008 - Renee Zeltwanger, Bremen
Boys 2009 - Chris Hueni, Bremen
Girls 2009 - Melissa Carter, Argos
Boys 2010 - Andrew Alexander, John Glenn
Girls 2010 - Casey Hueni, Bremen
Boys 2011 - Jordan Hesters, John Glenn
Girls 2011 - Elaine Schmeltz, LaVille
Boys 2012 - Andrew Hostetler, LaVille
Girls 2012 - Katelyn Schwenk, Oregon-Davis
Boys 2013 - Nicholas Amor, LaVille
Girls 2013 - Lincy Mae Jones, Oregon-Davis
Boys 2014 - Balke Hurford, Oregon-Davis
Girls 2014 - Sara Slabaugh, Bremen
Boys 2015 - Blake Berger, LaVille
Girls 2015 - Riley Trott, Oregon-Davis
Boys 2016 - Benjamin Nick, Bremen
Girls 2016 - Brooklyn Beatty, Triton
Boys 2017 - Josh Krsek, Culver
Girls 2017 - Alexandria Bope, Oregon-Davis
Boys 2018 - Dalton Dove, LaVille
Girls 2018 - Abigail Manikowski, Argos
Boys 2019 - Zachary Mago, John Glenn
Girls 2019 - Ryley Miller, John Glenn
Boys 2020 - Chase Ketterer, New Prairie
Girls 2020 - Whytnie Miller, Triton
Boys 2021 -  Hunter Smith
Girls 2021 - Jaelyn Bules