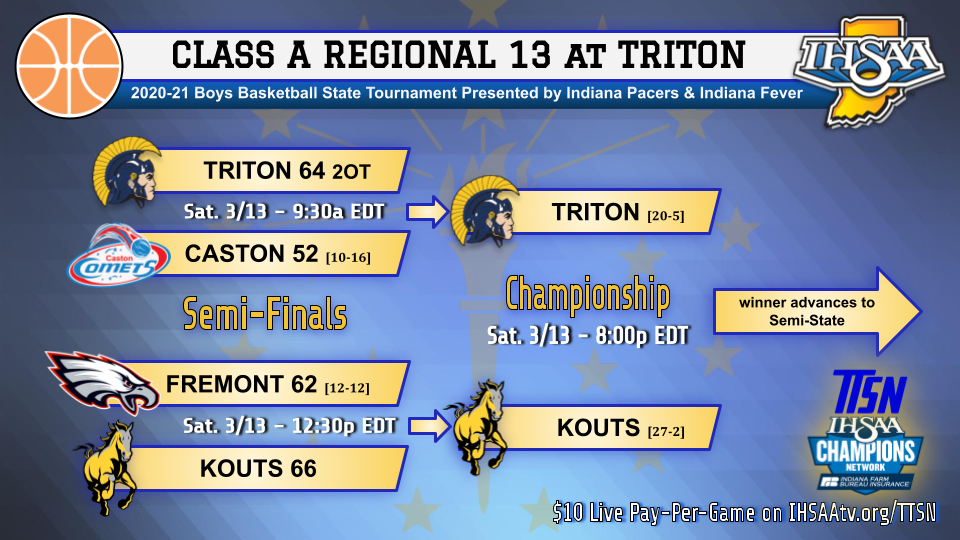 BOURBON, IN – The Triton Trojans Sports Network, in partnership with the IHSAA Champions Network, is excited to bring fans across the globe exclusive coverage of the 2021 Class 1A Boys Basketball Regional 13 at Triton.
In order to watch live video of the Regional round, the IHSAA is charging viewers $10 per game (plus a small service fee) to access the PPV live stream and archive.  The revenue from PPV tickets is divided between participating schools 40%, the IHSAA 40%, and TTSN 20%.  Why no all-access pass for Basketball Pay Per View?  See the IHSAA's response at the bottom of this article.
Live streams will begin 20 minutes prior to the scheduled tip-offs so fans have ample time to purchase their tickets and get their devices ready to watch in the event they are new to the IHSAAtv platform.

How to purchase Pay-Per-View tickets
1. Tap "Purchase Access" on the game you wish to watch below.
2. Log-in to your IHSAAtv.org account or create an account.
3. Follow the on-screen prompts to complete your purchase.
4. Once purchased, streaming device users can access the game on the IHSAAtv app for
Championship: tip-off 8:00 pm EDT, 7:00 pm CDT
Game 1: Triton v. Caston. tip-off 9:30 am EDT, 8:30 am CDT
Game 2: Fremont v. Kouts. tip-off 12:30 pm EDT, 11:30 am CDT