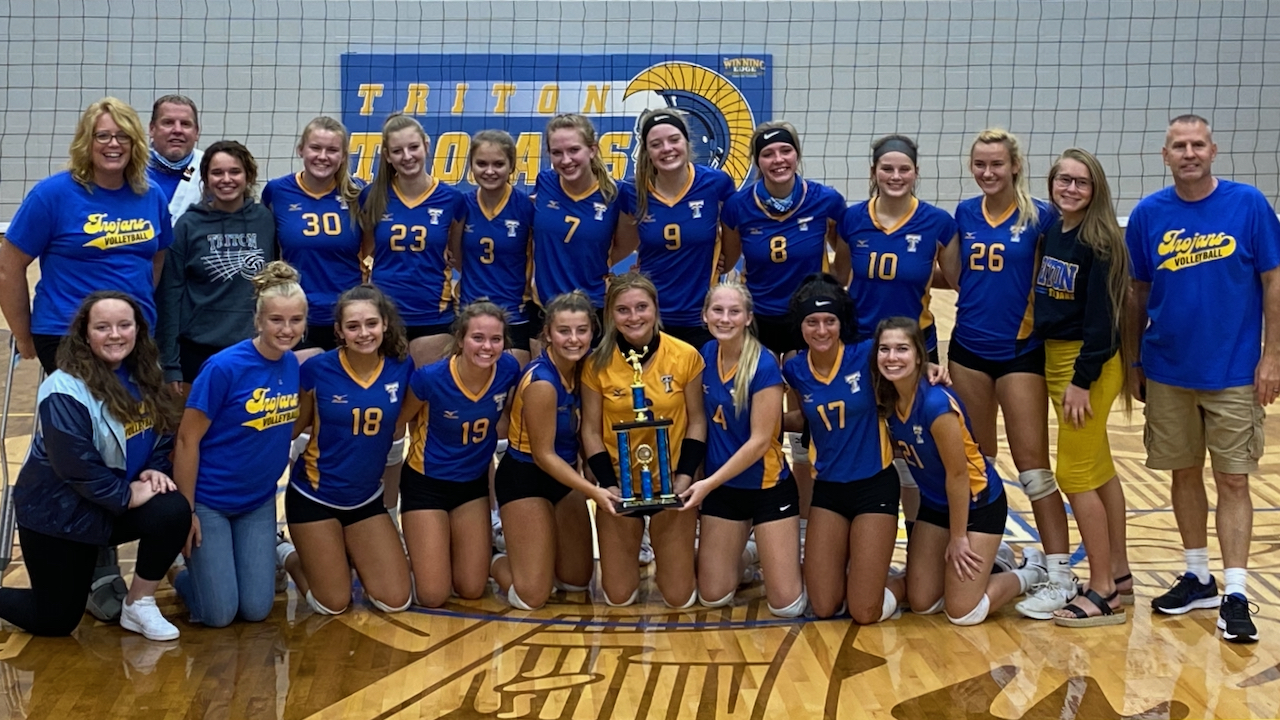 BOURBON - The Big Blue Slam hosted and won the Triton Invitational on Saturday. The Lady Trojans cruised through pool play defeating Caston 25-8, 25-13; Culver 25-5, 25-6; and Bremen 18-25, 25-10, 15-8.

The championship was a rematch of the season opener between John Glenn and Triton. You might remember that the Falcons defeated the Trojans 2-3 back on August 17, however, this time around was different. The Lady Trojans found their groove early in the championship match and never looked back taking down the Falcons 25-17, 25-18.

Those making the most impact on the day were Emma Hepler (77 assists), Addyson Viers (30 kills), Abbey Viers (27 kills and 8 blocks), Lexia Hostrawser (21 kills, 4 aces, and 4 blocks), Molly McFarland (36 digs), Kinsey Atkins (21 digs), and Madeline Doll (5 aces).

With the four wins, Triton improves to 11-4 on the season. The Big Blue Slam will go for 6 wins in a row Tuesday when the team travels to Elkhart Christian Academy for a 6:00 pm JV first serve.


Championship Match - John Glenn vs Triton


Post-win interviews with Coach Eveland, Emma Hepler, Abbey Viers, Molly McFarland, Jaela Faulkner, Lexia Hostrawser, Jaelyn Bules, Addyson Viers, Kinsey Atkins, Madeline Doll, Lauren Snyder, Dylanie Miller



Other Pool Play Results
A
Bremen def Culver 25-19, 25-15
Bremen def Caston 25-22, 25-22
Caston def Culver 25-20, 25-15

B
John Glenn def Laville 15-25, 25-20, 15-13
John Glenn def Knox 26-24, 25-17
Laville def Knox 25-23, 21-25, 15-10

Championship match
Triton def Glenn 25-17, 25-18

Triton Stat Leaders: (4 match totals)
Kills - Addyson Viers 30, Abbey Viers 27, Lexia Hostrawser 21
Assists - Emma Hepler 77
Aces - Madeline Doll 5, Hostrawser 4
Digs - Molly McFarland 36, Kinsey Atkins 21
Blocks - Ab Viers 8, Hostrawser 4

Record: 11-4, 2-1 HNAC
Next: at Elkhart Christian 9/5 - JV first serve 6:00 - no TTSN broadcast


Pool A Game 1 - Caston vs Triton

Pool A Game 2 - Bremen vs Culver

Pool A Game 3 - Culver vs Triton

Pool A Game 4 - Caston vs Bremen


Pool A Game 5 - Bremen vs Triton