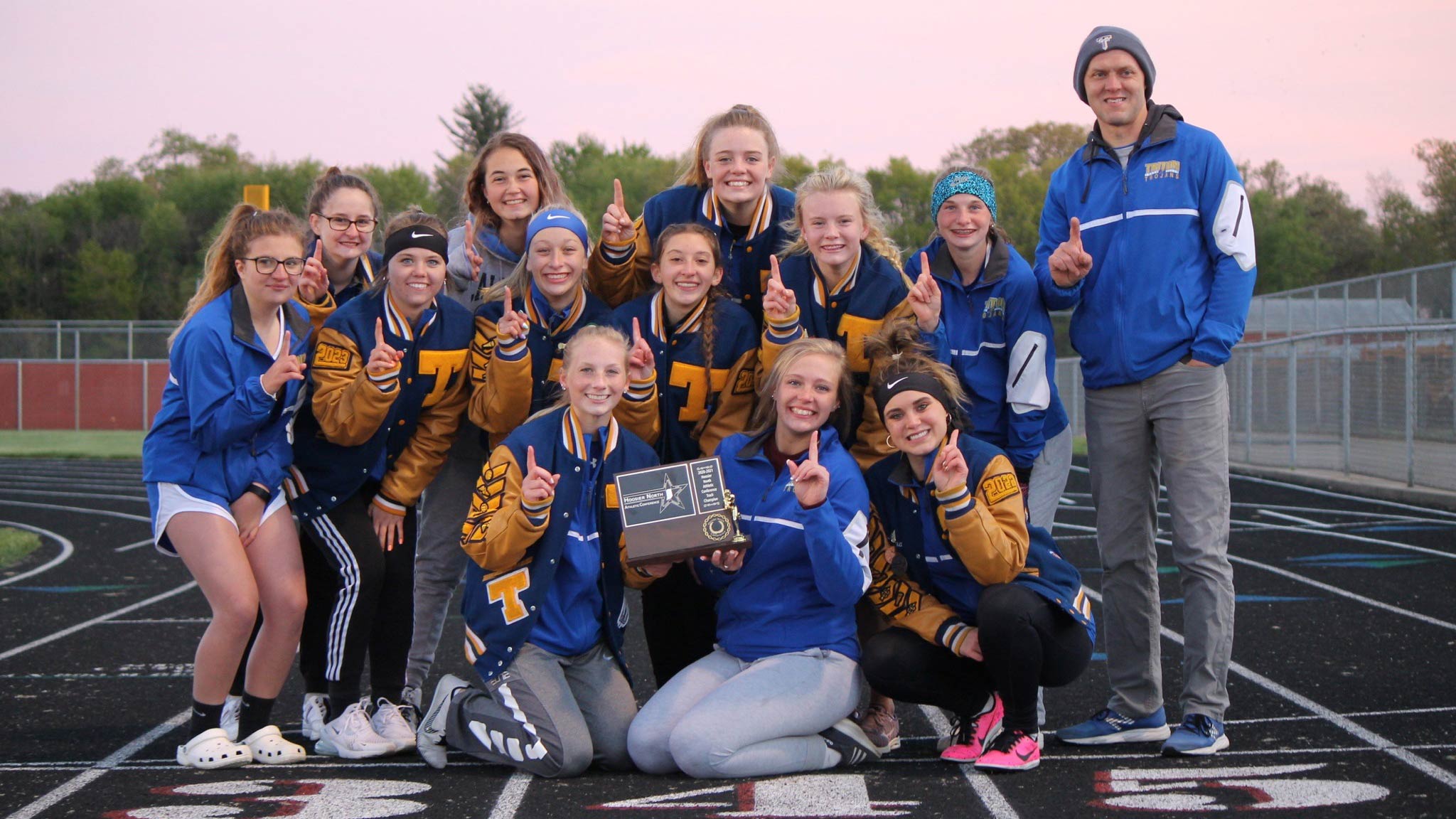 BREMEN - The Varsity Lady Trojans claimed 5th place at the IHSAA Girls Track & Field Sectional on Tuesday evening.  Makenna May was the sole Trojan to claim an individual title.  Her time of 17.70 in the 100m hurdles was the quickest in the field of 16 runners.  May's 2nd place finish in the 300m hurdles also qualified her to run at the Goshen Regional next week. 
Despite the lack of wins, the future looks bright for the Lady Trojans who set seven of their best marks this season at the Sectional with a 30.92 in the 200 by sophomore Kinsey Atkins, a 1:08.97 in the 400 by senior Jaela Faulkner, 17.70 in the 100 hurdles by junior Makenna May, a 51.80 in the 300 hurdles by Makenna May, a 2:40.04 in the 800 by freshman Jocelynn Faulkner, a 5:53.57 in the 1600 by Jocelynn Faulkner, and 103-11.00 in the discus by Addyson Viers.
Scratches have made room for two more Lady Trojans to join May at the Regional. Jaela Faulkner who finished 4th in the pole vault with a height of 8-00.00 and her sister Jocelynn who finished 4th in the 1600m with a time of 5:53.57 will compete at Goshen next Tuesday.
GIRLS
1. Culver Academies 182
2. Plymouth 126
3. Rochester 92
4. Manchester 73
5. Triton 57
6. Bremen 34
7. Tippecanoe Valley 21
8. North Miami 11
9. Culver Community 10
10. Whitko 9
11. Caston 6
Sectional Champions
100 hurdles - Makenna May 17.70 (advances to Regional)
2nd Place
300 Hurdles - Makenna May 51.80 (advances to Regional)
3rd Place
none
4th Place
800m - Jocelynn Faulkner 2:40.04
1600m - Jocelynn Faulkner 5:53.57 (advances to Regional)
Discus - Addyson Viers 103-11.00
Pole Vault - Jaela Faulkner 8-00.00 (advances to Regional)
5th Place
Pole Vault - Makenna May J8-00.00