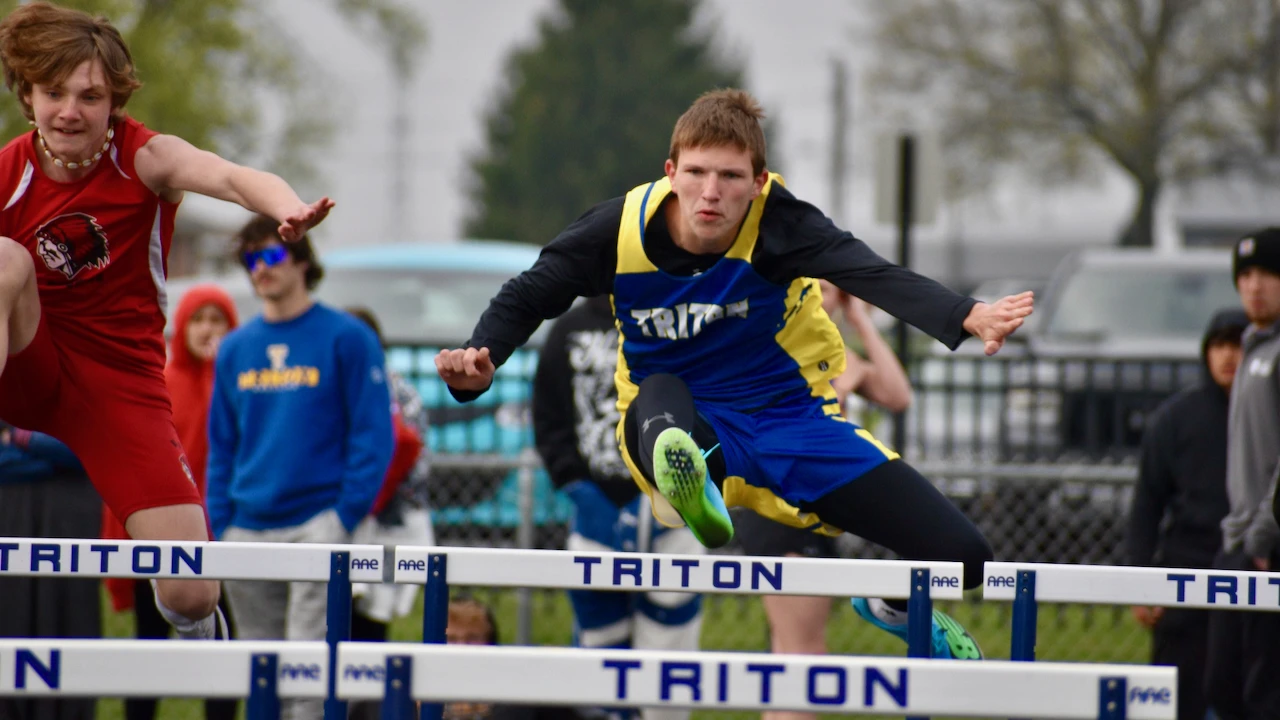 Caden Large set a PR in the 110m Hurdles - photos by Lisa Bemish
BOURBON - Triton hosted Pioneer and Knox Tuesday evening. The rain finally subsided, and the sun was out for a little while, but it did nothing to help warm things up at all. Even though it was the coldest meet to date (Unofficially per my fingers and toes) …. Triton still came out and put up some great times and numbers against some formidable opponents.
Highlights of the meet, Senior, Josh Lemler threw another PR in Shot Put, throwing it almost a foot farther at 45' 2". Caden Large set a PR in the 110m Hurdles with 18.1. Vinny Prater set another PR in the 100m dash at 11.6. Jaydon Heckaman set a PR in the 800m at 2:24.
On the Girls side, Hightlights of the night go out to Anna McIntyre. The senior set a PR and Career Best time in the 3200m Run at 16:51. Rory Heckaman also ran a career best in the 800m race setting a PR at 2:45. Morgan Heckaman set a PR in the 100m Hurdles at 20.3. Sami Middaugh placed 3rd in Shot Put with a PR at 27'1". And of course, Addyson Viers does it again but this time in Discus with a new PR of 96' 8.5" on the season. Jocelynn Faulkner came out and hit 7 foot on Pole Vault for the first time this year. Cam Emenaker also tried Pole Vault for the first time and cleared 6 foot.
CONGRATULATIONS to everyone that set new PR's for themselves and pushed it beyond their limits to reach new heights.
Team Results
BOYS Varsity
1st Pioneer 84
2nd Triton 55
3rd Knox 24
GIRLS Varsity
1st Pioneer 78
2nd Triton 57
3rd Knox 30
BOYS Varsity Results:
4X800m Relay
1st Pioneer 10:24.00
2nd Triton 10:53.00

110m hurdles
2nd LARGE, Caden 18.10 3 (PR)

100m
3rd PRATER, Vinny 11.60 (PR)

1600m
3rd RIFFLE, Gage 5:34.00

4x100m relay
1st Triton 46.60
2nd Pioneer 50.75

400m
2nd QUINTANA, Isaac 56.56

300m Hurdles
2nd LARGE, Caden 48.80
4th BARNHART, Travis 49.80

800m
4th HECKAMAN, Jaydon 2:24.00 (PR)

200m
2nd JOHNSON, Antonio 25.30
3rd OVERMYER, Jayden 26.20

4x400m relay
1st Pioneer 4:00.80
2nd Triton 4:10.00

Shot Put
1st LEMLER, Josh 45' 2" (PR & Career Best)
2nd HOWELL, Ethan 42' 2"
4th SCHUH, Trace 41' 1"

Discus
1st SCHUH, Trace 124' 5" 5
2nd HOWELL, Ethan 103' 7" 3

Polevault
3rd HUDSON, Jacob 8' 0"
4th EMENAKER, Cameron 6' 0"

Long Jump
4th CALLAHAN, Cameron 17' 8"

High Jump
2nd CALLAHAN, Cameron 5' 2"
GIRLS Varsity Results:
4X800m Relay
1st Triton 12:29.00
2nd Pioneer 13:29.00

100m hurdles
3rd ALBRIGHT, Addison 20.00
4th HECKAMAN, Morgan 20.30 (PR)

1600m
1st FAULKNER, Jocelynn 6:21.00
3rd POFF, Kayla 7:13.00

400m
4th HECKAMAN, Morgan 1:10.40

300m Hurdles
2nd ALBRIGHT, Addison 57.35

800m
1st HECKAMAN, Rory 2:45.00 (PR & Career Best)
2nd FAULKNER, Jocelynn 2:47.00
4th BEMISH, Rilee 3:13.00 (PR)

200m
4th REICHARD, Katie 30.40

3200m Run
2nd MCINTYRE, Anna 16:51.00 (PR & Career Best Time)

4x400m relay
1st Pioneer 4:45.00
2nd Triton 4:56.00 (PR)

Shot Put
1st VIERS, Addyson 36' 7"
3rd MIDDAUGH, Samantha 27' 1" (PR & Career Best)

Discus
1st VIERS, Addyson 96' 8.5" (PR)
3rd VIERS, Avery 84' 5"

Pole Vault
3rd FAULKNER, Jocelynn 7' 0"
4th BEMISH, Rilee 6' 6"

Long Jump
2nd REICHARD, Katie 14' 1"
4th ATKINS, Kinsey 11' 7.5"

High Jump
4th VIERS, Addyson 4' 4"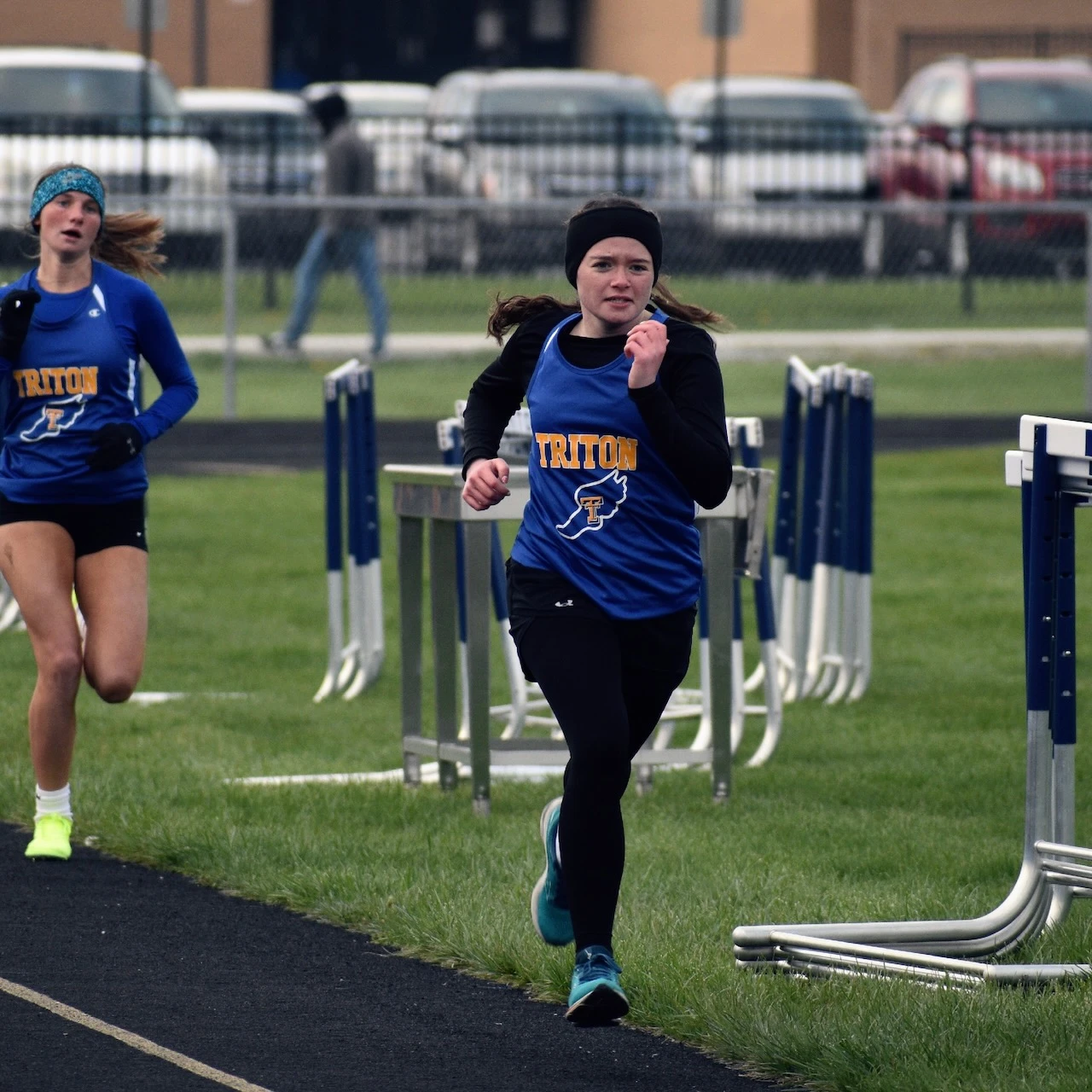 Rory Heckaman ran her career best in the 800m
Be sure to check out the Photo Album with pictures from this meet. Please know I tried to get as many places as possible. I promise to rotate around the field events. So next meet I will make sure I get pics from those events first.
That being said. Please save and share, plus brag and tag yourself in any of the photos. They are here for you to have and share. Don't forget to LIKE and SHARE this page with parents and students.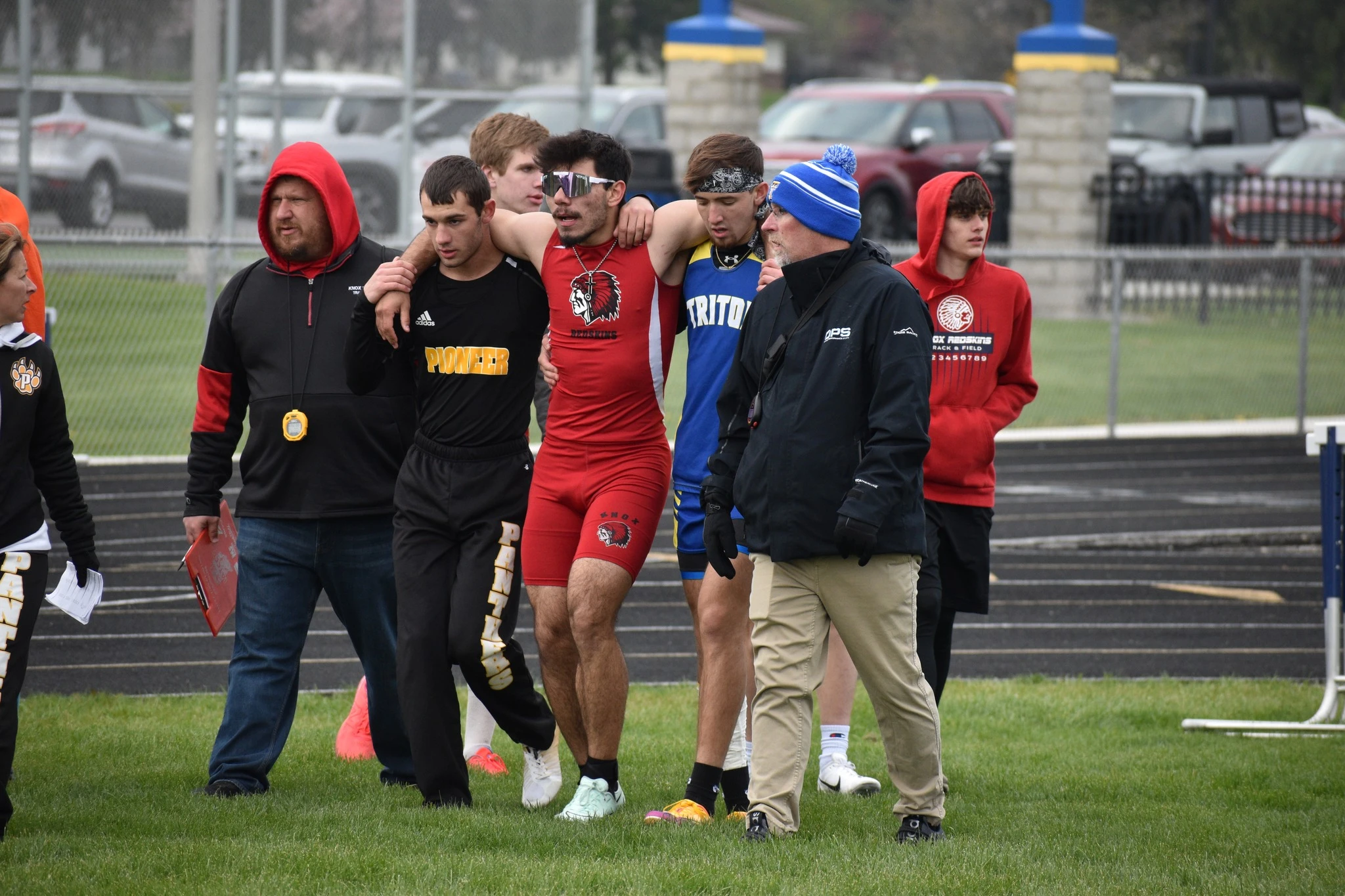 A Knox runner hurt his hamstring during one of the races. As you can see, his Pioneer competitor and Triton's very own Cole Irvine guided him safely to the trainers table.